Residents paying for City-provided solid waste services can schedule a free curbside bulk collection two (2) times each calendar year. Residents can choose which weeks for bulk collection and no longer have to schedule collections six weeks apart. Additional bulk collections are available for an additional fee.
Ratepayers, or authorized users by the ratepayer, may schedule a bulk collection by calling 480-782-3510 or by completing the Bulk Request Form. Note: Scheduling via the online form requires 7-14 days advanced notice.
No, bulk items are not collected in the alley.
Items for pick up shall be placed at the end of your front property, within 4' of the curb and/or sidewalk – unless you live in an area that requires containers to be placed on the main right-of-way due to restricted access for collection in front of my home. In this case, bulk material shall be placed where containers are collected with an effort made to not block the public right-of-way.
Most often, excess household waste or items too large to fit in a residential curbside or alley trash container.
Recycle Bulk - Common Items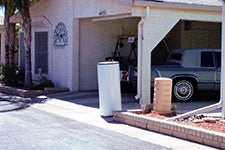 Excess cardboard; emptied and flattened

Disassembled

 metal items such as patio furniture, grills, playground equipment, etc.
Large and small appliances such as water heaters, washer, dryer, dishwasher, stove, toaster ovens, microwaves, window AC units, etc. $15 per unit fee for freezers, refrigerators, water coolers and any other type of Freon/coolant bearing appliance. Fees are applied to your City Utility Bill.
*Electronics (Computers, flat-screen LCT computer monitors, LED, LCD, plasma TVs, printers, stereos, microwaves, etc.) Flat-screen (non-CRT) TVs and monitors are collected as a recycle bulk
Trash Bulk - Common Items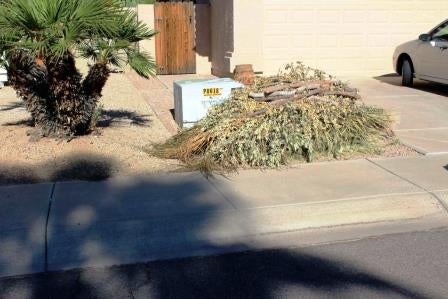 Tree trimmings and yard clippings. City Code, Chapter 44-6 states requirements for bulk collection.
Broken, non-repairable furniture
Broken, non-repairable toys
Household trash and textiles
CRT, console and projection TVs, and CRT Computer Monitors
Please Note: When scheduling a bulk collection, a list of items you are requesting for pick up is required, as different trucks are scheduled, based on types of items collected. 
Items not accepted include, but are not limited to the following:

Food, diapers, hygiene products, pet waste, liquid, hazardous material, medical waste, tire and auto parts. Building materials, such as sheetrock, drywall, wood paneling, cinder blocks, bricks, stone countertops, tile and flooring. Landscaping material such as concrete, pavers, rock, gravel, dirt and sod.

For more information, including alternative disposal options for items not accepted, call 480-782-3510.

Size of bulk cannot exceed 4 ft. w. x 4 ft. h.  x 16 ft. l.  Approximately the size of two standard pickup truck loads) Exceeding the limit may result in bulk not being collected

Bulk items should not exceed 50 lbs. per item

Tree and yard trimmings - not to exceed 5' in length and no more than 5" in diameter.

Tree trunks - cut, and not to exceed 3' in length and no more than 5" in diameter

Palm Fronds - cut into 5' lengths and fronds stacked in the same direction.

Palm tree husks - must be securely bagged or boxed (not greater than a 3' x 3' box)

Cactus - must be securely boxed (not greater than a 3' x 3' box)

Carpet - cut in sections not to exceed 5' x 5'; lay flat and stacked for collection; limited to one room of carpet (standard room size 12 x 12)

Water softeners - all waste removed, liquid (water) and solid (salt)

Glass Items – (glass tabletop, solar panels) secured with tape in criss-cross pattern  to prevent breakage

Cardboard boxes - emptied, flattened and stacked for collection

BBQ grills must have propane tanks removed. Propane tanks are accepted at Household Hazardous Waste Collection Facility by appointment.

Appliances - Refrigerators, freezers, ovens, dishwashers, etc.

Refrigerator, freezer, wine cooler, water cooler, air conditioner and other appliances that use coolant - $15 coolant removal fee per item applied to Chandler utility bill

Basketball hoops, trampolines, bed frames, patio swings and other large items that are made of metal and non-metal items must be disassembled and separated into metal and trash piles.