Solid Waste Services is on-call and ready to serve! In addition to providing you with great programs and answers to your recycling and trash questions, we offer FREE presentations and tours to support our community's need for environmental education.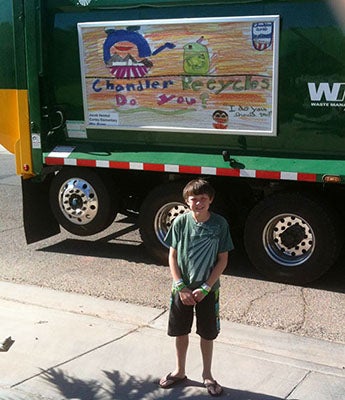 We offer presentations available to school, youth groups, businesses and civic organizations within Chandler city boundaries.
Recycling presentations are available for 3rd grade and up.  
Recycling to Go Kits (Recycling DVD, books, activity sheets) can be checked out for home use. 
For more information, call 480-782-3510. 
Recycling Activities & Resources
Recycling Kits Include:
The Works: Garbage DVD
City of Chandler: On a Roll with Recycling DVD
Books with Teachers' Guides and Students Activities
Word search, cross word and word scramble activity sheets
Coloring sheets
Recycling Fundana Board Game
Landfill Model Includes:
Interactive Landfill Model
Teacher and User Guide
Fourth grade students who are home schooled or attend public, private or charter schools in Chandler are encouraged to participate in the City's Annual Environmental Art Contest.
Recycling and Trash Collection Best Practices
Though the City of Chandler does not provide recycling or trash collection for schools (per city code - only collection for single-family homes up to tri-plex units), City staff is available to meet with student organizations and school staff to offer best practices for school recycling programs.