The Mayor and City Councilmembers are elected "at large" to represent the entire City. They are not elected to represent districts or wards. The term of the office of Mayor and Councilmember is four years and is limited to two consecutive terms. Candidate elections are held in the even-numbered years. Each election year, three positions for City Council are up for election. Every four years an election is held for the office of Mayor.
City Council meetings are usually held the second and fourth Thursdays of the month. Study Sessions are usually held on the Monday prior to a Council meeting.
Chandler City Council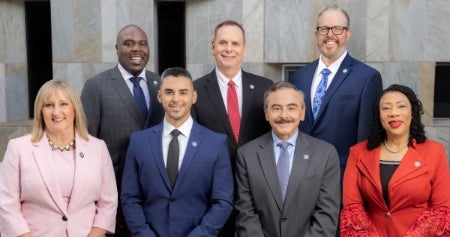 Front row, from left: Councilmember Jane Poston, Councilmember Angel Encinas, Vice Mayor Matt Orlando, and Councilmember Christine Ellis.
Back row, from left: Councilmember OD Harris, Mayor Kevin Hartke and Councilmember Mark Stewart
Contact the City Council
Need some help? Notice a problem that needs our attention? Please let us know about it.
Contact Chandler Service Request Form
Please note that any correspondence, such as email or letters, sent to City officials or staff becomes public record and is available for review by the public and members of the media.

Email Mayor and Council
Office of the Mayor & Council 
Mail Stop 603 
P.O. Box 4008 
Chandler, AZ 85244-4008
480-782-2200
Mobile app: Chandler PublicStuff
Mayor Kevin Hartke
Current Term: January 2019 – January 2027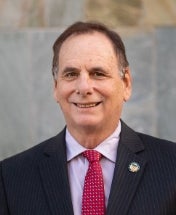 Mayor Kevin Hartke began his term in January 2019. He previously served nine years on the City Council, first as an interim Councilmember in 2008, and then was elected to consecutive terms and served from January 2011 to January 2019. Kevin served as Vice Mayor twice, in 2015 and 2017.
Mayor Hartke and his wife, Lynne, have been married for 39 years and have lived in Chandler since 1985. He served as Lead Pastor at Trinity Christian Fellowship in Chandler where he worked from 1985-2018. He has a bachelor's degree in Biochemistry from the University of Missouri, Columbia; and a master's degree in Theology from Fuller Theological Seminary. He served as the statewide director of For Our City for nine years, which is a collaborative effort of government, business, nonprofit and faith leaders gathered to find solutions for needs in a community.
Mayor Hartke is involved extensively in the State, Phoenix metropolitan region, and Chandler. As Mayor, he serves on:
Arizona League of Cities and Towns Executive Board

Maricopa Association of Governments (MAG) Executive Board and Regional Council

Greater Phoenix Economic Council

Board Member of the Regional Public Transportation Authority

Board member of Valley Metro light rail  

MAG Regional Transportation Committee
In Chandler, he also volunteers with:
American Cancer Society

Ex-officio Board member with the Chandler Chamber of Commerce

Ex-officio Board member with Chandler's Sister Cities
His past regional service included the following:
Board member of the MAG Economic Development Committee

Board member with Desert Cancer Foundation of Arizona

Chair of the Continuum of Care Regional Committee to End Homelessness for MAG

Governor's Commission on Faith and Communities and the Congressional Committee on Faith and Neighborhoods
His past service in Chandler and beyond included the following:
Chandler City Councilmember

Commissioner on the Planning and Zoning Commission

Chairman of Human Relations Commission

Chairman of the 2010 Complete Count Committee and member of a previous Charter Revision Committee

Ex-official member of Chandler Airport Commission

For Our City Chandler Director

Executive Board of the Chandler Coalition On Youth Substance Abuse

YMCA soccer coach

Community volunteer activist and organizer of citywide volunteer efforts and Arrowhead Meadows Traditional Neighborhood Organizer

Literacy advocate, reading weekly to students at Galveston Elementary since 2007
Connect with the Mayor's Initiatives
Mayor Hartke supports several initiatives to connect with community members in areas that are important to the entire City. The Mayor encourages all Chandler residents to get involved.