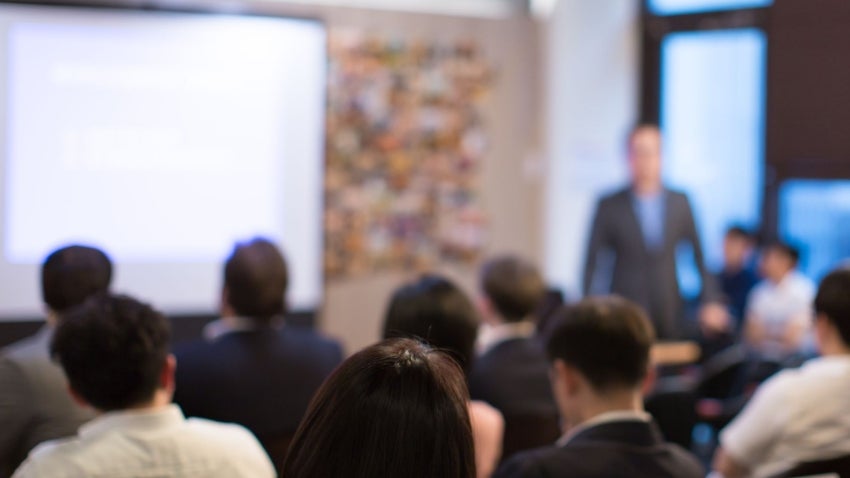 Ever wonder how Chandler's water plants bring water to the faucet? Or maybe you'd like to learn how to get involved in city projects and initiatives. Interested in a first-hand account of what a day in the life of a councilmember is like?
Chandler Chats is a new speaker series that will answer all your city-related questions through the eyes of subject matter experts and elected officials. Choose a topic and we'll connect you to the right speaker to bring you an interactive, informational experience.
Why invite a Chandler Chats speaker?
Connecting to your city leaders and staff is a great way to stay informed about all things Chandler. You can explore various city departments, meet your elected officials, and find out how to get involved in projects and programs throughout the city. Plus, learning how to navigate your city will help make you a better community advocate, better equipped to help your family, friends, and neighbors.
Perfect for nonprofit agencies, schools, HOAs, and businesses
Chandler Chats is open to nonprofit agencies, schools, businesses and organizations that operate here in Chandler.
Choose your topic
Not sure what topic you're looking for? Here are a few ideas:
Quarterly Topics
These options swap out every few months and are typically timely or seasonal.
Chandler Strategic Framework: Get the scoop on Chandler's future with a presentation on the 2023-2025 Strategic Framework, which lays out the long-term strategic plan passed by the City Council in spring 2023. It is broken up into six categories: Public Safety, Connectivity, Economic Vitality, Neighborhoods, Quality of Life, and Sustainability & Technology.
Popular Topics
Water Resources: Water and drought have been the talk of the Valley in recent months. We can bring you the info you need about how water is stored, treated, and distributed in Chandler, and what you can do to conserve.
Let's get started!
Choose from one of several popular or timely topics or request one specific to your community or organization.
Complete the request form and provide all requested information. Make sure to tell us of any specific technology requirements or special requests not listed as options in the form.