At the Chandler Fire Department, we take our responsibility to educate the public seriously. Our goal is to better protect our community by providing a wide variety of services and programs that will help keep our residents informed, healthy and safe. We offer programs for children of all ages, parents and families, youth and teens, adults and senior adults.  
Emergency Preparedness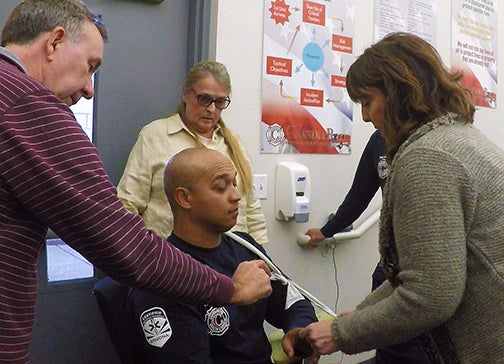 Chandler offers a self-preparedness course based on the Community Emergency Response Team basic course as part of the City's Emergency Operations Plan (EOP) and local homeland security response.  
The purpose of the course is to increase the knowledge and preparedness of Chandler's residents by teaching them individual preparedness and coping skills to take care of themselves and their families following a natural or man-made disaster for up to 72 hours, or until help arrives to assist them. 
Partnership for L.I.F.E.
Elementary schools in the City of Chandler are invited to participate in the "Partnership for L.I.F.E. - Learning in Firesafe Environments" certification program offered by Chandler Fire Department. Elementary schools that choose to partner with CFD will receive regular visits by their Fire Pal, a specially trained firefighter who educates the 1st and 2nd-grade students in a variety of fire safety subjects. The schools will receive special educational materials, a fire drill evaluation, guidance on how to perform self-inspections of classrooms and school facilities, receive an annual review by a CFD Fire Inspector and ensure that at least 10% of their staff is CPR certified. 

Partnership for L.I.F.E. Program