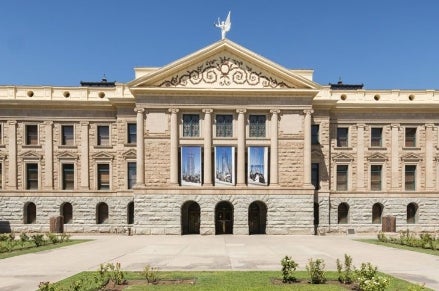 The Government Relations and Policy Division executes the Federal and State policy agenda of the City of Chandler to serve the interests of our community. The division works with regional agencies such as Maricopa Association of Governments, Valley Metro, Arizona Municipal Water Users Association, East Valley Partnership and the League of Arizona Cities and Towns to represent Chandler's priorities throughout the State.
This team also encompasses the Transportation Policy Division, which works to identify and secure local, State and Federal transportation funding for City projects, provides guidance surrounding the management of transportation activities, coordinates ADA compliance and oversees the City's transit system.
Legislative Priorities and Advocacy 
Each winter, the Government Relations Division, in coordination with key staff and the Mayor and Council, establishes legislative priorities to outline the City's broad framework when it comes to advocacy at the State and Federal levels. The City's fundamental priorities are to preserve the authority to make decisions at the local level, protect revenue sources, and oppose State efforts to impose additional responsibilities without funding.
These priorities guide the City's activities during the legislative session. In partnership with The League of Arizona Cities and Towns, the City annually tracks hundreds of proposed bills that could affect Chandler residents or services the City provides.
Chandler's Elected Officials

Federal Representatives 
The City of Chandler is located in Maricopa County District 1 along with Gilbert, Mesa, Queen Creek, Tempe and a portion of Phoenix. Maricopa County District 1 is represented by Supervisor Jack Sellers.
Supervisor Jack Sellers
Getting Involved
There are many ways that you can be involved in the legislative process, and Government Relations staff is here to answer questions about bills moving through the legislature and how to meaningfully navigate the legislative process. 
Contact Us 

Chandler City Hall
City Manager's Office
175 S. Arizona Ave.,
Chandler, AZ 85225



Strategic Initiatives Director
Ryan Peters | 480-782-2215

Government Relations Coordinator
Alexis Apodaca | 480-782-2216