SYSTEM MAINTENANCE ALERT: Some City facilities along McQueen Road in southeast Chandler may experiencie intermittent computer and/or phone outages affecting various departments, including the Solid Waste and Recycling Customer Service Call Center. The outages are expected to be limited to Nov. 19-20. We will work to fully restore the affected services as soon as possible. We apologize for the inconvenience and appreciate your understanding. 
The Recycling-Solid Waste Collection Center (RSWCC) is a residential drop-off facility for recycling and trash disposal. The RSWCC is approved for use by Chandler residents paying for City-provided solid waste services. This is a resident self-haul, self-unload facility only.
Standard Hours of Operation
Open: Thursday - Monday: 8 a.m. - 4 p.m.
Closed: Tuesday, Wednesday and City observed holidays: New Year's Day, MLK Day, Presidents Day, Easter, Memorial Day, 4th of July, Labor Day, Veterans Day, Thanksgiving (Thursday & Friday) and Christmas.
Thanksgiving Collection Schedule | Nov. 28-29
City offices will be closed Thursday and Friday, Nov. 28-29, for the Thanksgiving holiday. There will be no trash or recycling collection on Thanksgiving Day, Nov. 28. If your regular collection day is Thursday, place your container at the curb on Friday by 6 a.m. 
Residents whose regular collection day is Friday should place their container at the curb on Saturday by 6 a.m. 
The Recycling-Solid Waste Collection Center is also closed for the Thanksgiving holiday on Nov. 28-29, resuming operations on Saturday, November 30 at 8 a.m.
Address
955 E. Queen Creek Road
Chandler, AZ 85286
Entrance is on the south side of Queen Creek Road, just west of McQueen Road.
Wait times vary based on customer usage, busy times on the weekend, and seasonally. Consider scheduling a free bulk curbside pick up for cardboard, landscaping and household trash. 
Schedule a Home Bulk Pick Up
Monday through Friday, 8 a.m. to 5 p.m.
480-782-3510
Use of the Recycling-Solid Waste Collection Center
Only residents paying for City-provided solid waste services can bring trash or schedule appointments for household hazardous waste drop-off
Fees (per City Code Fee Schedule) may apply to some materials (Call 480-782-3510 or click on the "Fees" tab below for details)
Residents living in apartments, townhomes or multi-family units, incorporated in City of Chandler limits, can bring trash for a fee
Effective Nov. 21, 2019 - Recycling materials are no longer accepted from residents on county islands and neighboring communities, nor businesses.
Materials accepted for recycling are subject to change due to market conditions and safety concerns
Important Information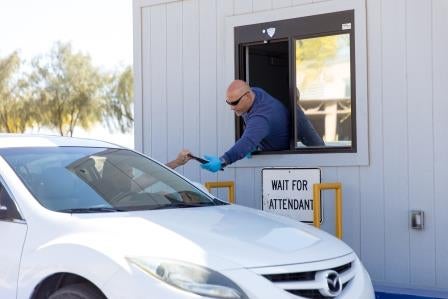 Be prepared for every visit to the present:
Photo I.D.. and Current City of Chandler Utility Bill, showing City-provided solid waste service) must be presented at every visit:
Per City Code, the City Utility Bill must be current within the last 60 days
Residents not bringing in a current bill may be denied the use of the facility
For faster check-in please bring a printed copy of your City Utility Bill as barcodes on mobile devices do not always scan due to glare, screen protectors, etc.
Information to Know About the RSWCC
Fees - Per ton for specific waste materials. View City Fee Schedule 
Alternative sites for waste disposal near Chandler are provided by private waste disposal companies.