Chandler Contigo celebrates Hispanic Heritage Month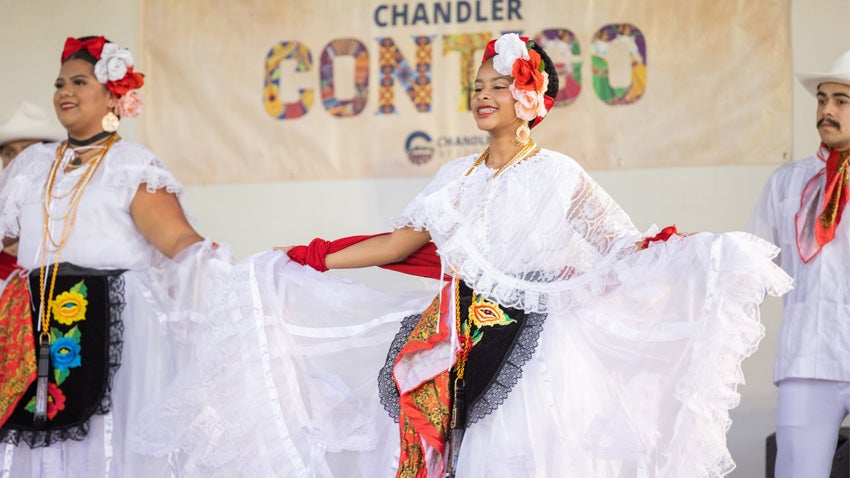 The city's Diversity, Equity & Inclusion Division, in partnership with Chandler Public Library, Chandler Center for the Arts, Chandler Museum and Vision Gallery, is back with "Chandler Contigo" — a month-long program full of family and 
educational events and activities to celebrate National Hispanic Heritage Month (Sept. 15-Oct. 15).
The celebration starts with a Chandler Contigo Kickoff Event on Saturday, Sept. 16, from 10 a.m. to 2 p.m. at the Downtown Chandler Library, 22 S. Delaware St. Residents are invited to experience rich cultural history and enjoy live performances, workshops and talks by notable Latino authors and artists. There also will be a variety of hands-on activities for the whole family, as well as authentic sweet treats for attendees to enjoy.
Be sure to mark your calendar for dozens of other events hosted at all library branches throughout the month, featuring family lotería, paint nights, crafts, story time and more. You also may purchase tickets for the 24th annual Mariachi and Folklórico Festival on Saturday, Oct. 7, or plan to check out upcoming exhibits featuring Latino history in Chandler and the work of Latino artists at the Chandler Museum, Chandler Center for the Arts and Vision Gallery. Plus, you don't want to miss a special screening of the iconic Latino film "Stand and Deliver" in honor of the movie's 35th anniversary.  
It's time to sign up to host a G.A.I.N. event in your Chandler neighborhood
G.A.I.N. (Getting Arizona Involved in Neighborhoods) is a statewide annual event supported by the Chandler Police and Neighborhood Programs Office that encourages residents to become engaged with their local communities through safety and celebration.  
G.A.I.N. brings Chandler police officers and other city programs and resources to your parties, which helps strengthen your 
neighborhood's sense of community with the city. Chandler's Mayor and Councilmembers also will travel to several of the 
parties to meet the neighbors and join the fun.  
The 2023 G.A.I.N. is scheduled for Saturday, Oct. 14.
In order to have officers attend your block/neighborhood party, one person representing your party must attend the G.A.I.N. Kickoff Event, which is being held from 9-11 a.m. Saturday, Sept. 16, at the Chandler Police Main Station Community Room, 250 E. Chicago St.  
Holding a G.A.I.N. event makes your neighborhood eligible for nomination in next year's Mayor's Neighborhood Excellence Awards. Find more information by emailing G.A.I.N.Event@chandleraz.gov or call 480-782-4960.
What should you do when you see a flashing yellow left turn signal at an intersection?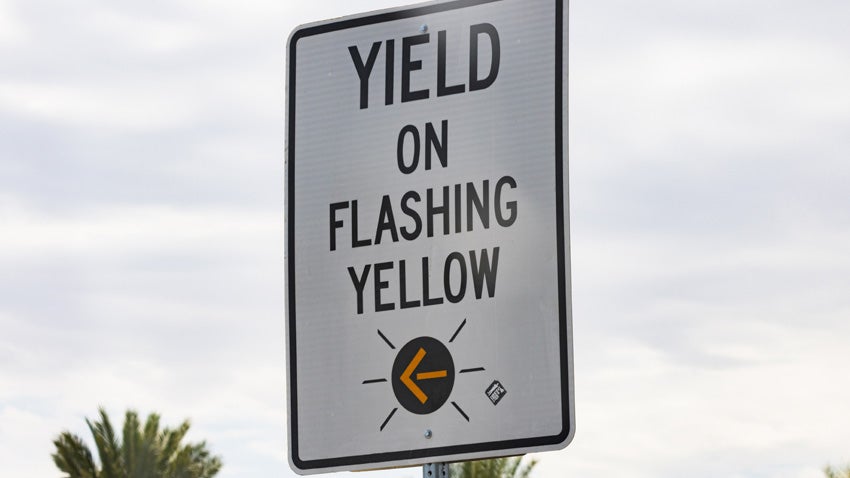 Sometimes we all need a reminder about some common traffic rules. One question that comes up regularly is what to do when you have a flashing yellow left turn arrow at an intersection.
Dana Alvidrez is the city's transportation engineer. She says, "When the left turn arrow is flashing yellow, left turns are permitted but you must first yield to oncoming traffic and pedestrians. Then, as with any turning movement, determine if there is an adequate gap and proceed when safe to do so. When the flashing yellow arrow becomes a steady yellow arrow, this is a warning that the light is about to turn red. If you are in the intersection, safely complete your turn — if not, safely stop."
Free Friday night fun in West Chandler
Friday nights are fam-tastic at Community Nights at Kyrene del Pueblo Middle School! Join Chandler Recreation for free recreation nights at Kyrene del Pueblo Middle School every third Friday of the month Sept. 15 through Dec. 15. These family-friendly events offer exciting interactive programming for children and adults with varying interests, including arts and crafts, yard games, open gym and more. Each night features a different theme that provides a fun and creative way to enjoy the fall and upcoming holiday season while creating unforgettable memories. The activities run from 6 – 8:30 p.m.
Learn more about your trash and recycling container care
Container Placement 
To ensure your service is not interrupted:
Place container with wheels against the curb by 6 a.m. on your scheduled collection day, or as early as 6 p.m. the evening before. 
Make sure your cans are not overweight or items aren't sticking out of the container. Container lids should be completely closed. 
Space your container at least six (6) feet from another container and five (5) feet from permanent structures such as mailboxes, street signs or light poles.
Remove your container from the curb by 9 a.m. on the day after collection.       
Broken Containers  
Trash and recycling containers with cracked or missing lids, handles,  wheels or bodies are considered broken containers.  
Call Solid Waste Services at 480-782-3510 or fill out a Damaged Container Repair Form online by searching "containers" at 
chandleraz.gov, to schedule a "house call" and we'll have your container back on its wheels in no time.
Clean Containers 
It is the responsibility of residents to keep their trash and recycling containers clean. Spray, clean and rinse containers 
occasionally to reduce odors and dirty, grimy build-up.     
• August is Drowning Impact Awareness Month. Direct supervision is the best way to prevent drowning. Never leave your child unattended in or near any pool, tub or other body of water.
• City offices will be closed Monday, Sept. 4, for the Labor Day holiday. Trash and recycling collection will not be affected by the holiday, and regular collection will occur. Place your bins out on your normal collection day.
• Chandler's Water Conservation Division offers free workshops to teach residents how to use water more efficiently and have an attractive yard. 
The City of Chandler is committed to ensuring that people with disabilities are able to participate in, and benefit from, the full range of public programs, services and activities offered by the city. In accordance with the requirements of Title II of the Americans with Disabilities Act of 1990, as amended, the City of Chandler will not discriminate against qualified individuals with disabilities on the basis of disability in the city's facilities, services, programs or activities. 
Employment: The City of Chandler does not discriminate on the basis of disability in its hiring or employment practices and complies with all regulations promulgated by the U.S. Equal Employment Opportunity Commission under Title I of the Americans with Disabilities Act (ADA).
Effective Communication: The City of Chandler will generally, upon request, provide appropriate aids and services leading to effective communication for qualified persons with disabilities so they can participate equally in the city's facilities, services, 
programs and activities, including qualified sign language interpreters, documents in Braille and other ways of making information and communications accessible to people who have speech, hearing or vision impairments. 
Modifications to Policies and Procedures: The City of Chandler will make all reasonable modifications to policies and programs to ensure that people with disabilities have an equal opportunity to enjoy all city facilities, programs, services and activities. For example, individuals with service dogs are welcome in city facilities, even where animals are generally prohibited.
Anyone who requires an auxiliary aid or service for effective communication, or a modification of policies or procedures to participate in a City of Chandler program, service or activity, should contact the city's ADA Coordinator no fewer than two business days before the scheduled event or meeting:
Jason Crampton, ADA Coordinator 
Mailing address: MS 412, PO Box 4008, Chandler, AZ 85244
Physical address: 175 S. Arizona Ave., Chandler, AZ  85225
Phone: 480-782-3402 or 711 via AZ Relay Service (AZRS)
Email: ada.coordinator@chandleraz.gov 
Requests for reasonable accommodation may also be made directly to the responsible city office or department as follows:
For communication aids and services at City Hall and City Council Chambers, contact the City Clerk, Dana DeLong, at 480-782-2180 (711 via AZRS) or dana.delong@chandleraz.gov.
For accommodations relating to the Recreation, Parks and Aquatics programs of the Community Services Department, contact Collette Prather, Recreation Inclusion Specialist, at 480-782-2709 (711 via AZRS) or collette.prather@chandleraz.gov.
Optional forms for requesting an accommodation are available from the city website, the City Clerk's Office or the ADA Coordinator. 
The ADA does not require the City of Chandler to take any action that would fundamentally alter the nature of its programs or services, or impose an undue financial or administrative burden. Complaints that a city program, service, facility or 
activity is not accessible to persons with disabilities should be directed to the ADA Coordinator.
The City of Chandler will not impose a surcharge on an individual with a disability or any group of individuals with 
disabilities to cover the cost of providing auxiliary aids/services or reasonable modifications of policy.