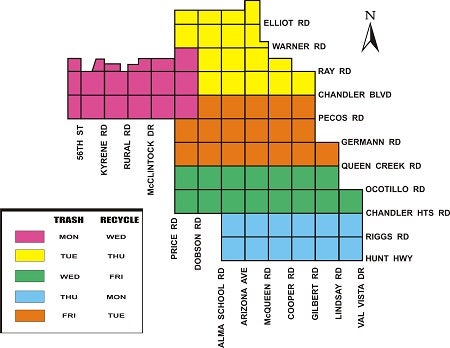 Effective March 6, 2017
If you have alley trash collection, please call customer service for your trash collection days.
You can also find your collection days and set reminders on the free Recycle Coach, or enter your address in the City's InfoMap to find collection days, your neighborhood code inspector, crime prevention officers, and more.
Trash and recycling is collected between 6 a.m. and 5 p.m.

Though it may seem the truck arrives about the same time every week, there is no specific scheduled time for trash or recycling containers to be emptied.

Time of collection varies due to truckload capacity, traffic, weather, route changes, road construction and street or utility maintenance.

To ensure collection service is not interrupted, have your can at the curb with the lid closed by 6 a.m. on your day of collection or after 6 p.m. the evening before your collection day.

Remove your container from the curb no later than 9 a.m. the day after collection.
If you believe your container was missed, check your neighbors' cans to see if the collection truck has been by yet. If your can was the only one not collected, leave the container at the curb and call customer service early the next business day. If your collection day is Friday, call by 3 p.m.
The missed collection is verified by container inspections on a street and reviewing GPS tracking the route and the stops made by a collection truck on a street.
Set container on street against the curb

Do not block the sidewalk

Container lid should close completely

Do NOT block the sidewalk for pedestrian use

Place container at least 3 ft. from:

Other containers

Parked vehicles

Mailboxes, street signs and light poles

Items placed on top or next to container will not be collected
Do not place the following items in your trash or recycling container. Call 480-782-3510 for disposal options.
Dirt and rock*

Concrete*

Household construction and demolition debris*

Manure*

Liquid Waste

Hazardous Waste (includes paint, varnish, pool chemicals, gasoline, and other household hazardous material)**

Batteries, other than small alkaline batteries**

Medical Waste

Vehicle bodies

Tires*

Ammunition (contact Police Department)

Scrap Metal*

Livestock or dead domestic (animals under 75 can be hauled to Recycling-Solid Waste Collection Center)

Septic waste
HOLIDAY
PICKUP
Martin Luther King, Jr. Day
Monday, Jan. 16, 2023

Recycling and trash ARE collected.

Presidents Day
Monday, Feb. 20, 2023

Recycling and trash ARE collected.

Memorial Day
Monday, May 29, 2023

Recycling and trash ARE collected.

Juneteenth
Monday, June 19, 2023

Recycling and trash ARE collected.

Independence Day
Tuesday, July 4, 2023

Recycling and trash ARE collected.

Labor Day
Monday, Sept. 4, 2023

Recycling and trash ARE collected.

Veterans Day
Sunday, Nov. 11, 2023

This holiday is on the weekend, so collection is not affected.

Thanksgiving 
Thursday, Nov. 23, 2023

Recycling and trash are NOT collected on Thanksgiving Day. 

If your regular collection day is Thursday, place your container at the curb on Friday by 6 a.m. Regular Friday collection moves to Saturday. | Holiday Recycling Tips
Christmas Day
Monday, Dec. 25, 2023

Recycling and trash are NOT collected on Christmas Day. If your regular collection day is Monday, place your container at the curb on Tuesday by 6 a.m. Regular Tuesday collection moves to Wednesday, Wed. to Thurs., Thrus. to Fri., and Fri. to Sat. | Holiday Recycling Tips | Christmas Tree Recycling

New Year's Day
Monday, Jan. 1, 2024

Recycling and trash are NOT collected on New Year's Day. 

If your regular collection day is Monday, place your container at the curb on Tuesday by 6 a.m. Regular Tuesday collection moves to Wednesday, Wed. to Thurs., Thrus. to Fri., and Fri. to Sat. | Holiday Recycling Tips