Downtown Chandler has plenty of free parking options for patrons, employees and visitors. With so many options it's easy to find free parking within walking distance to your destination. 
Oregon Street parking garage, Oregon and Chicago streets, anytime
Overstreet parking garage, Oregon and Buffalo streets, anytime

City Hall parking garage, 240 S. Washington St., anytime 

The Johnathan (formerly the Ports America building) parking garage, only after 5 p.m. during the week and all day on weekends

The Alexander (formerly the First Credit Union building) parking garage, only after 5 p.m. during the week and all day on weekends 
Ride the Wave, Chandler's Free Downtown Shuttle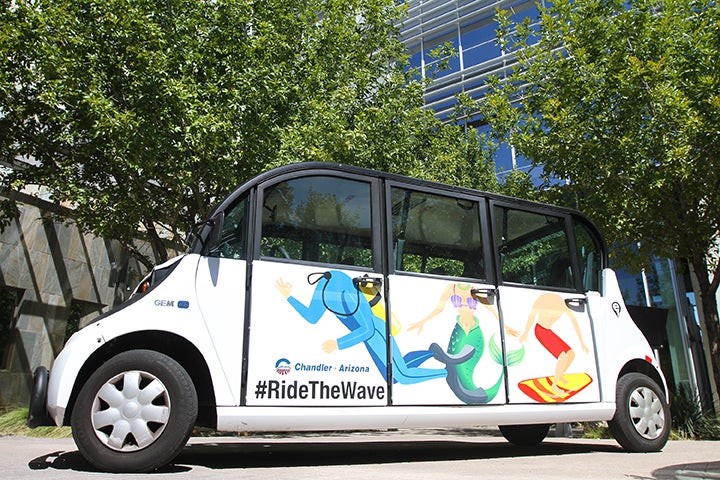 Visitors to Downtown Chandler can now get free shuttle rides from the four parking garages to destinations throughout the downtown area with a new e-Cab service, dubbed the "Wave." The service is available from 5-10 p.m., Thursday, Friday and Saturday evenings. The vehicles will circulate from the parking garages through the downtown square and to nearby venues. Patrons also can wave them down for rides or hail a ride by calling 602-730-5153.

Ride the Wave
Changes to Downtown Parking
The face of Downtown Chandler is changing to make way for new development and businesses. Currently, there is no parking available in the dirt lot off Arizona Avenue, directly across from City Hall. While construction is happening in the downtown area, the City also has arranged for free, temporary surface parking:
Between Dakota and California streets, south of Chandler Boulevard 

Northeast corner of Buffalo Street and Arizona Avenue 
#FindYourSpot
Take a photo of your favorite hot "Spot" in Downtown Chandler and share a parking tip using the hashtag #FindYourSpot. Don't forget to tag @cityofchandler on Instagram and @cityofchandleraz on Facebook when you post your photo.