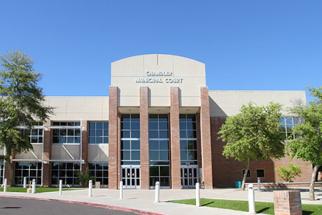 The Chandler Municipal Court is the Judicial Branch of Chandler city government and is also a part of the Arizona Judicial System. The Chandler Municipal Court serves the public and contributes to the quality of life in our community by fairly, impartially, and promptly administering justice in an effective, efficient, and professional manner.
Use Court Case Search to display all cases that have been dispositioned. This will not include pending cases.
The Court Case Calendar will display all pending cases in our court and provide the date and time of the next hearing.
Orders of Protection
Protective Orders include; Orders of Protection, Injunctions Against Harassment and Injunctions Against Workplace Violence.  The same Petition is used for all (3) Protective Orders.
Pay your court fees

 
Pay your fees online using Chandler Court Pay. You will be redirected to our payment processor's site. An additional service fee applies to any payment made with a credit/debit card. You can order transcripts or audio through The Record Xchange. 
Common Forms 
Resources

AZ Court Help
AzCourtHelp, a statewide virtual legal resource center, offers free assistance to all people who have legal information questions or need assistance in resolving disputes.
Pay Delinquent Court Fines
Pay your delinquent court fines using Arizona Courts Online Payment, or call toll-free at 1-866-859-2527. You must have the delinquent notice number to pay online or by phone.