The next City of Chandler candidate election will be held on Aug. 4, 2020; three Councilmembers will be elected to serve on the Chandler City Council. The General Election will be held Nov. 3, 2020.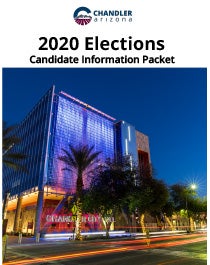 Eligibility
To be eligible to serve on the Chandler City Council you must:
 Be a qualified elector of the City

 Be a resident of the City or an annexed area for at least two years  immediately preceding the election, and 

 Hold no other elected public office or be a City employee
The following nomination procedures must be performed.
 
Before collecting any signatures the Candidate Statement of Interest must be filed with the City Clerk's Office. 
 
Nomination Petition Signature Requirements
At least 1,000 and not more than 3,657 signatures of qualified registered voters of the City of Chandler is required. 
 
Nomination Petition Filing Period
The nomination petition filing period begins 8 a.m. on Monday, March 9, 2020, and ends no later than 5 p.m. Monday, April 6, 2020. 
The following paperwork must be filed during the nomination filing period: