The information below pertains to the 2024 City of Chandler Candidate Election.
Thank you for your interest in becoming a candidate in the 2024 City of Chandler Election. This information is an important first step in the election process and has been prepared to provide you with information and candidate requirements for the 2024 City Council Election.
While every effort is made to provide a comprehensive overview of the election process for the City of Chandler, this candidate information and the noted resources are provided with the understanding that City Clerk staff cannot render legal or financial advice. It is the candidate's responsibility to ensure that all legal requirements have been met.
The City of Chandler appreciates your interest in the election process. contact the City Clerk's Office for assistance during the nomination petition period or throughout the election process at 480-782-2182; or email Chandler City Clerk, Dana DeLong.

Please note that the Chandler City Clerk serves as the filing officer for all local election forms.  All forms must be filed with the Chandler City Clerk's Office within the deadlines noted in the statutes. Candidates are encouraged to refer to the Arizona State Constitution, the Arizona Revised Statutes, the Chandler City Charter, and the Chandler City Code for legal requirements pertaining to candidates for elective office.   
Candidate Information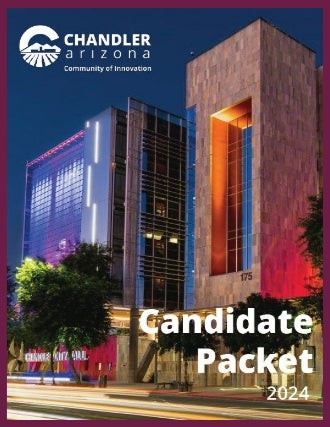 Eligibility
To be eligible to serve on the Chandler City Council you must:
Be a qualified elector of the city
Be a resident of the city or an annexed area for at least two years immediately preceding the election, and
Hold no other elected public office or be a city employee
The following nomination procedures must be performed.
Candidate Statement of Interest
Before collecting any signatures the Candidate Statement of Interest must be filed with the City Clerk's Office.
 
Nomination Petition Signature Requirements
At least 1,000 and not more than 5,111 signatures of qualified registered voters of the City of Chandler is required.
 
Nomination Petition Filing Period
The nomination petition filing period begins 8 a.m. on Monday, March 11, 2024, and ends no later than 5 p.m. Monday, April 8, 2024.
The following paperwork must be filed during the nomination filing period:
E-QUAL Online Petition Portal
The City of Chandler is using the Arizona Secretary of State's E-QUAL system to enable candidates to collect nomination petition signatures online.  Interested candidates may create an online account and create a nomination petition at Arizona Online Petition Portal.
Please follow the instructions found in the "E-Qual Candidate Guide"
View a video demonstrating how to set up a candidate portal via E-QUAL.