Chandler supplies an average of 56 million gallons of high-quality drinking water every day to our residential, business and industrial customers while meeting or exceeding all health and safety standards set by local, state and federal regulators.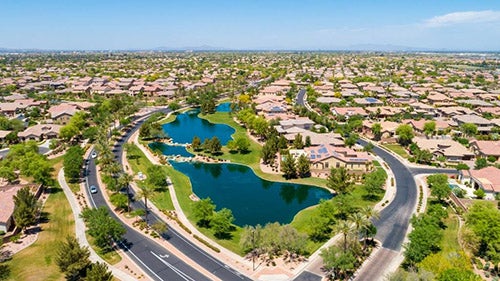 Chandler's water and wastewater rates are among the lowest of all major Valley cities. Our water and wastewater operations are accredited by the American Public Works Association, the toughest accreditation to achieve in the public works industry.
Chandler actively promotes water conservation using a combination of financial incentives, free services, education, ordinances, and reclaimed water use. As a result, residential per capita water demand is on the decline, dropping six gallons per capita per day over the last 10 years and 22 gallons per capita per day since 1996.
The City derives its water supply from many sources and has worked hard to diversify our water portfolio. We have a water treatment plant and over 30 wells available for our use, plus we share a drinking water treatment plant with the Town of Gilbert and have a portion (3%) of Chandler's surface water treated at Mesa's CAP treatment plant. 
Up to 100 tests a day are performed on the drinking water you receive at your home or business.  These tests are repeated day after day to make sure your water meets every health and safety standard set by the state and federal government. Federal law requires that once each year, suppliers of tap water prepare a report about the quality of your tap water.  This report, called a "Consumer Confidence Report", includes valuable information about your drinking water, its source and quality.
Chandler has three Water Reclamation Facilities that produce reclaimed water that meets all state reuse and recharge standards. We've developed a state of the art reclaimed water system that is making good use of this resource rather than letting it go down the drain. Reclaimed water, or effluent, is an environmentally sound way of reusing our water and at the same time, saving our potable water supplies for future uses. 
Chandler also has constructed recharge basins and recharge wells to restore groundwater the City may pump during high summer demand months and administers an aggressive Pretreatment Program that works with local businesses and manufacturing facilities to reduce discharges of pollutants into the municipal sewer system.
Chandler was the first city in Arizona to receive accreditation of its Public Works and Utilities Department by the American Public Works Association, the largest and oldest organization of its kind in the world, with 63 chapters located throughout North America.  Chandler participates in regional water planning as an active member of the Arizona Municipal Water Users Association and regularly meets with the Arizona Department of Water Resources, Central Arizona Project, Salt River Project and individual cities to discuss water supply, water sustainability and water management issues.
Producing quality drinking water is a full-time operation. Here's a glimpse of the 'night shift" at Chandler's water treatment plant: