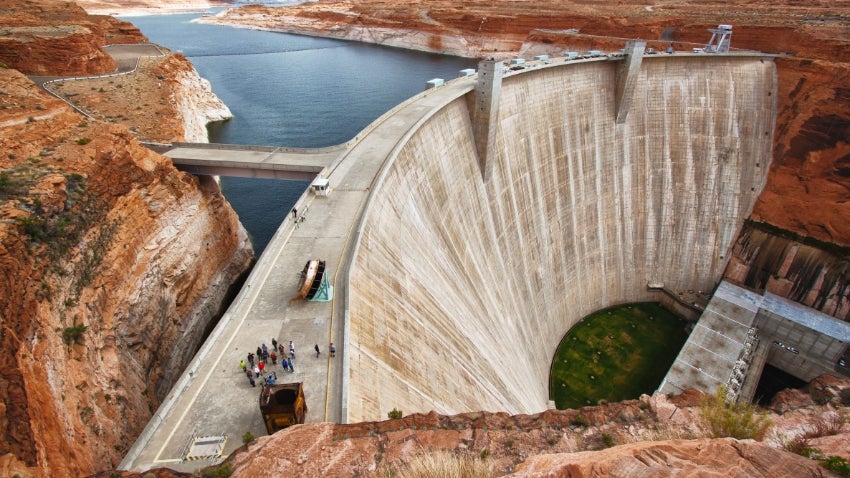 Chandler has been preparing for drought and surface water shortages for decades. Smart water management decisions and water policies help us maintain a reliable water supply. We have proactively invested in infrastructure, diverse water supplies, water reuse, storing water underground and conservation programs.
Colorado River Conditions
Due to historic drought, climate and over-allocation, Lake Mead is at a historically low level. Chandler recognizes the seriousness of the current Colorado River situation and will continue to plan for a future with less water. Chandler is well prepared. In June 2022, the City announced the implementation of Stage One of Chandler's Drought Management Plan and will continue to monitor the drought situation as conditions change.
Chandler's Water Supply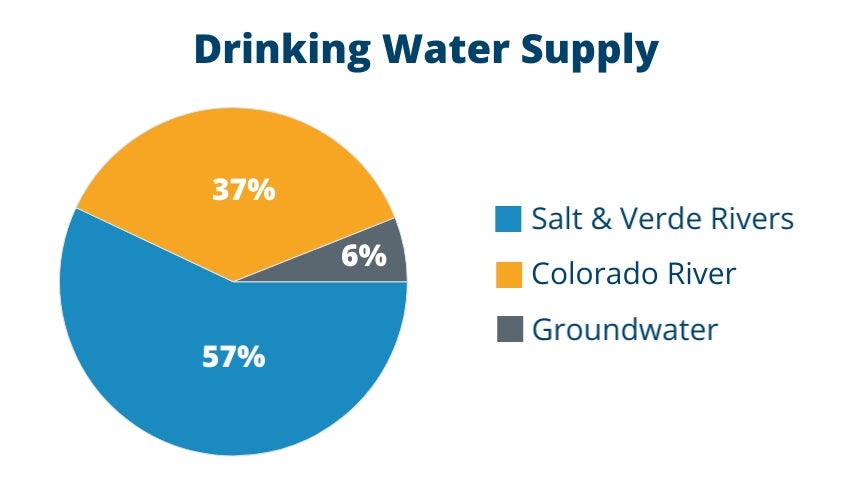 Did you know that only a portion of Chandler's water supplies come from the Colorado River? Approximately 57% of Chandler's drinking water supplies come from the Salt and Verde rivers. During a water shortage, the City can also rely on water stored underground over the past two decades. Chandler has enough water stored underground to last for roughly 20 to 30 years. The City has also invested millions of dollars into infrastructure to treat and reuse wastewater for non-potable uses like urban irrigation, industrial uses, aquifer recharge and riparian wetlands.
Shortage Impacts to Chandler
The U.S. Bureau of Reclamation recently announced the first ever Tier 2a shortage on the Colorado River beginning on Jan. 1, 2023. The shortage declaration means that Arizona, Nevada, and Mexico will voluntarily take less water from the Colorado River next year.
Due to Arizona's priority system and the Drought Contingency Plan, central Arizona agricultural users face the brunt of these reductions. Municipalities and tribes have the highest priority rights to Colorado River water in central Arizona. Some cities and tribes will also experience reductions to Colorado River supplies in 2023.
Chandler anticipates a three percent reduction to our Colorado River supplies. If extreme drought conditions persist and Lake Mead levels continue to drop, Chandler's Colorado River supplies could be impacted even further. If those supplies are reduced further, the City of Chandler will rely on alternative supplies in its water supply portfolio.
Drought Preparations and Water Conservation
Drought and shortage is not a short-term problem. It is a reality in the desert. That is why long-term planning is a priority in our arid climate. Effective water management and efficient water use provide the foundation for us to grow, prosper, and remain sustainable despite these challenges. Chandler's 100-year Assured Water Supply Designation from the State, along with our Water Allocation Policy ensure reliable water supplies that support responsible growth in our community.
Chandler's drought preparations include:
Securing a 

diversified water supply

 to reduce its reliance on one water source.

Implementing a progressive 

Water Conservation Program

 and Ordinances that actively promote water conservation practices, regardless of the water supply.

Investments in reclaimed water infrastructure to ensure the City is reusing 100% of our water supplies. The City delivers reclaimed water to over 350 customers, reducing the demand for drinking water supplies. 

Constructing a reliable well program that allows the City to pump groundwater during times of surface water shortages and to meet peak summer demands.

Developing an Underground Storage and Recovery Program that allows the City to store surface water underground so it can be recovered using City wells when it is needed during surface water shortages.
Even though we can still meet the water needs of our growing community, the City will be increasing water conservation education and marketing efforts to urge residents, businesses, neighborhoods and municipal programs to use water efficiently. Because of conservation efforts, the average Chandler household uses 20% less water today than it did 25 years ago. Chandler's strong conservation ethic has helped us avoid the need for mandatory water restrictions, despite a 22-year drought.
Chandler residents have conserved hundreds of millions of gallons over the years. Learn more about Chandler conservation in 2022. We'll continue to encourage of culture of conservation and careful water stewardship. Chandler will continue to monitor drought conditions and Colorado River shortages for any changes and keep the community updated as new information becomes available.