Have you experienced a higher than normal water bill and didn't know where to turn? The Water Conservation staff is available to help track down leaks and offer tips on ways you can reduce household water consumption.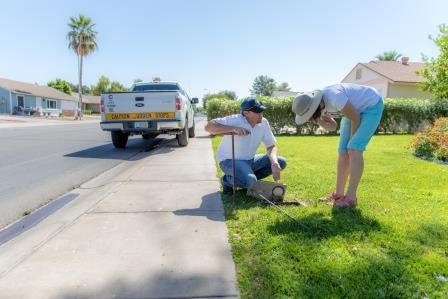 When the Water Conservation office recommends a Water-Wise Site Visit or Landscape Consultation, you may envision a nosey examiner scrutinizing your water use.
Basically, a water-wise site visit is simply a free on-site evaluation of water-using fixtures, equipment, landscape, and management practices to determine the efficiency of your home's water use. Typical residents save up to 40 percent on their water use after following the water conservation advice.
As part of this program, a Chandler Water Conservation Specialist will tour your property to show how you can easily conserve water and save money. We'll even give you money-saving rebates and incentive information. Best of all, your appointment can be conveniently scheduled M-F between 6:30 a.m. and 3 p.m.

During the water-wise site visit, water conservation staff will:
Check your water meter for accuracy and demonstrate how to use it to monitor water use.
Check for signs of leaks.
Provide useful conservation tips specific to your property to help manage your water use.
Inspect irrigation stations, and provide a checklist of suggested improvements.
Provide scheduling information to assist you with programming your irrigation timer.
Provide useful tips on interior water use.
Provide high-efficiency showerheads and kitchen faucet aerators (for homes built prior to 1992).
Provide free how-to brochures and handouts.
So is a free water-wise site visit worth the time?
The City of Chandler measures the amount of water used at a home the year before the visit and then compares it to the amount of water used at the same home a year after the visit. The average savings is 60,000 gallons per year!
This City-wide program is offered free-of-charge to Chandler water customers including HOA's and commercial properties. Request a water-wise site visit. For more information contact the City of Chandler Water Conservation Office at 480-782-3583.



Water-Wise Self Evaluation Resources