The Chandler Fire Department is an internationally accredited, all-hazard response agency with expertise in mitigating emergencies involving fire, hazardous materials, and those requiring technical rescue. More than 70 percent of services rendered by CFD, however, are medical in nature and range from basic life support to large scale emergencies. 
Our Mission
The firefighters, paramedics, civilian staff, and executive leadership of CFD are proud to serve the residents of Chandler.  As an organization, we strive to be:
Responsive to the Needs of the Community

Committed to Community Involvement

Dedicated to Customer Service

Proud of our Professionalism


 
Chief Tom Dwiggins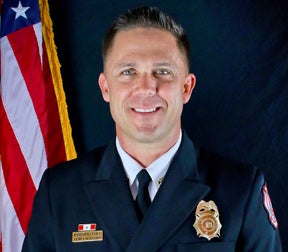 Chief Dwiggins has served the Chandler Fire Department since 1998, first as a firefighter/paramedic, and then as a chief officer in 2009. In 2014, he joined the executive leadership team of CFD as an Assistant Chief and soon after became the City's fifth Fire Chief in 2016. Dwiggins is a certified Chief Fire Officer, a designation earned through the Center for Public Safety Excellence; an active member of the International Association of Fire Chiefs; and a veteran of the United States Air Force. Chief Dwiggins holds a degree in Paramedicine, Public Safety, and a Master's degree in Leadership. 
ISO Public Protection Classification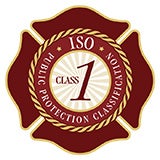 Every five years the Insurance Services Office's (ISO) Public Protection Classification (PPC) program recognizes cities across the nation for their innovative fire protection methods. Once evaluated, cities are assigned a Class number that ranges from Class 1 to Class 10, with Class 1 being the highest ranking. The Chandler Fire Department (CFD) was awarded the Class 1 distinction, placing it in the top 2% in Arizona and 1% in the nation. With Chandler's 11 strategically placed fire stations, businesses and homes are not more than three square miles from the nearest fire station, 300 feet from a fire hydrant, and 6 minutes (on average) from an arriving fire truck or ambulance. These factors combine to create a community that's not only safe for employees to work, play, and live but at a cost to employers, that's lower than surrounding cities.
CPSE Accreditation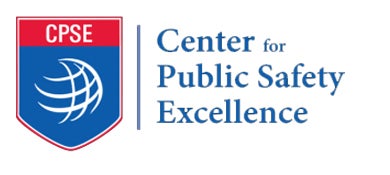 Every 3-5 years the Center for Public Safety Excellence (CPSE) accredits Fire and EMS agencies through a rigorous year-long process. Agencies are tasked with undergoing a strategic self-assessment of their resource deployment model, developing continuous quality improvement initiatives, and presenting findings to a commission of leaders within the Fire Service. CFD is proud of being a five-time accredited agency and receiving an ISO Class 1 distinction, making it one in sixty organizations in the nations to have accomplished both.
Commission on Accreditation of Allied Health Education Programs Accreditation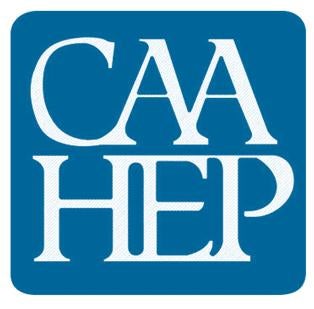 The Commission on Accreditation of Allied Health Education Programs is the largest programmatic accreditor of the health sciences professions. In collaboration with its Committees on Accreditation, CAAHEP reviews and accredits over 2100 individual education programs in 32 health science occupations. CAAHEP accredited programs are assessed on an ongoing basis to assure that they meet the Standards and Guidelines of each profession. The Chandler Fire Department is proud to announce our participation and demonstration of compliance with the accreditation standards, through the Letter of Review Self Study Report (LSSR), and other documentation approval by CAAHEP. The achievement of national accreditation will help guide our educational process to better promote and preserve the health of the community we serve.
Honor Guard and Pipes & Drums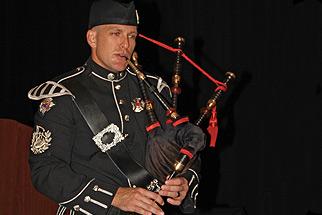 CFD's Honor Guard and Pipes & Drums were established to pay tribute to firefighters who have died in the line of duty. This dedicated group of men and women represent the City at events that honor fallen firefighters within the State of Arizona and across the nation. Both volunteer units are comprised of CFD personnel, who participate in countless hours of drills, ceremonial practices and rehearsals.
For more information on the CFD Honor Guard or Pipes & Drums call 480-782-2120.
Public Safety Memorial Plaza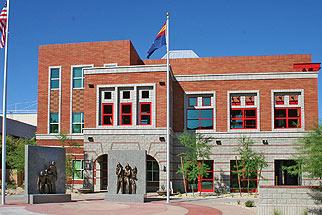 Located on the east side of the CFD Headquarters (151 E. Boston Street), sit two larger-than-life bronze sculptures entitled "To Protect & To Serve." These sculptures were created by artists Jesus and Adan Romo, and serve as a memorial for police and firefighters who have died in the line of duty. On the back of each granite wall—one dedicated to fire personnel and the other to police—are the names of first responders lost in the line of duty, accompanied by a prayer. Residents are encouraged to visit the Public Safety Memorial Plaza in observance of the sacrifice of Chandler first responders.
9/11 Memorial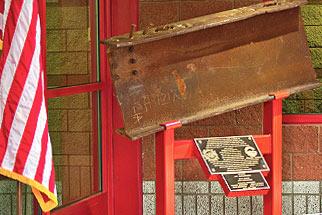 A steel beam from the World Trade Center in New York City was incorporated into a permanent memorial that honors the victims of the 9/11 terrorist attacks on the Twin Towers, the Pentagon, and Flight 93. The memorial is located at CFD Headquarters (151 E. Boston Street).
Chandler Firefighter Charities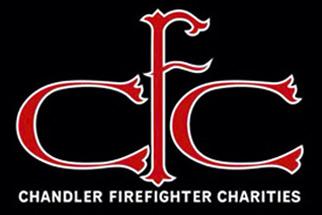 Chandler Firefighter Charities is a 501(c) (3) nonprofit organization formed by Chandler firefighters in 1994. Its founders recognized that citizens frequently need services that extend beyond the confines of a fire or medical emergency. Therefore, the mission of the Chandler Firefighter Charities is to help residents attain basic necessities like food, clothing, and shelter in the aftermath of health crisis or fire.
To learn more and make a contribution to the Chandler Emergency Relief Fund call 480-782-2120.