Household Hazardous Waste disposal is now available by appointment. Call 480-782-3510 to schedule.

Throwing household chemicals in your trash container, pouring them down the drain, or dumping them at the curb is dangerous and irresponsible. To better serve Chandler residents, the City offers household hazardous waste collection at the City's Household Hazardous Waste Collection Facility.
 
Appointments required. Call 480-782-3510. This service is not scheduled via email.
Remember: Verification of City residency is required. Per City Code - A current City of Chandler utility bill showing city-provided refuse services, along with photo ID
For residents living on county islands or Sun Lakes communities not receiving City of Chandler trash and recycling service contact the following: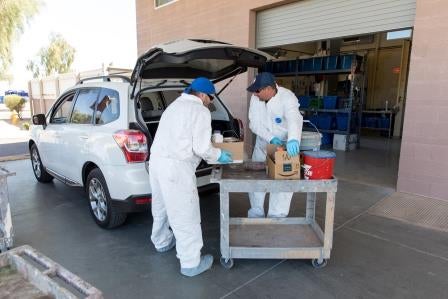 IMPORTANT: Appointments for HHW drop-off must be scheduled in advanced
Scheduled appointments are required to ensure a safe environment for the public and staff when managing quantities of household hazardous waste dropped off
Why are appointments for HHW drop-off required?
The HHW Collection Center, located at the Recycling-Solid Waste Collection Facility, does not have permanent full-time staff for this stand-alone operation
Staff working other areas at the transfer facility are scheduled to work HHW operations
The number of staff required to work HHW operations is based on the number of appointments scheduled for that particular day, and the quantities/type of HHW scheduled for drop-off
For safety, staff accepting HHW is required to be suited w/safety wear and gear
Please review prior to arrival: Household Hazardous Waste Disposal Guidelines
Hot Loads are on the Rise! Your help is needed in preventing fires ("hot loads") in trash and recycling collection vehicles.


What is a hot load?
A truckload of recyclables or trash that catches fire, smolders, spontaneously combusts, or becomes toxic as a result of incompatible waste mixing inside a collection truck. Hot loads can potentially jeopardize the health and safety of the driver of the collection truck as well as the public. A hot load can occur in neighborhoods while collecting recycling and trash or on public roadways, and can damage personal property and collection vehicles.

What causes a hot load?
Improper disposal of material in a recycling or trash container that is incompatible and reacts when mixed with other waste in a collection vehicle.

The combination of incompatible chemicals, such as household bleach and ammonia, can be lethal.

Depending on the types of household chemicals, the results can be a hazard waiting to happen -- injuring workers, family members, neighbors, pets, and the environment. Carefully sorting or separately containing household chemicals in your trash container is still risky business. When trash is collected, it is compacted in the truck to make room for more refuse. The compaction process makes it possible for incompatible materials to mix together. Household chemicals such as pesticides, fertilizers, automotive fluids (including oil and antifreeze), paints and paint thinners, and pool chemicals should be used to the last drop. Leftover products should be properly labeled and stored for recycling or disposal at a local Household Hazardous Waste Collection Facility.

DO NOT place the following material in your recycling or trash containers:
Hot ashes (cigarette paraphernalia, hot coals and/or wood)
Motor oil, gasoline, antifreeze, Kerosene
Paint, varnish, pesticides or other household chemicals
Auto batteries, rechargeable NiCad or Lithium batteries
Cooking oil from fryers - State Statutes prohibit disposal of liquid waste - NO LIQUID WASTE!