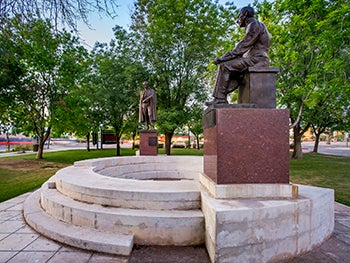 Since 1983, the Chandler Arts Commission has administered the city's Art in Public Places Program, commissioning and purchasing unique works of art for the enjoyment of Chandler residents and visitors.
Funding for these public artworks has been made available through the City of Chandler's Percent for Art Ordinance. One percent of limited capital improvement projects, primarily new buildings and parks, is allocated for the acquisition, commission and installation of public art.
Many pieces of the collection are located in municipal buildings and on street corners. The Chandler Arts Commission is also dedicated to placing new installations in area parks and other public areas throughout the city.
Take the Interactive Art Tour to see highlights of pieces in the Chandler collection.
For a current listing of artworks and their location, contact the Chandler Arts Commission at 480-782-2695.