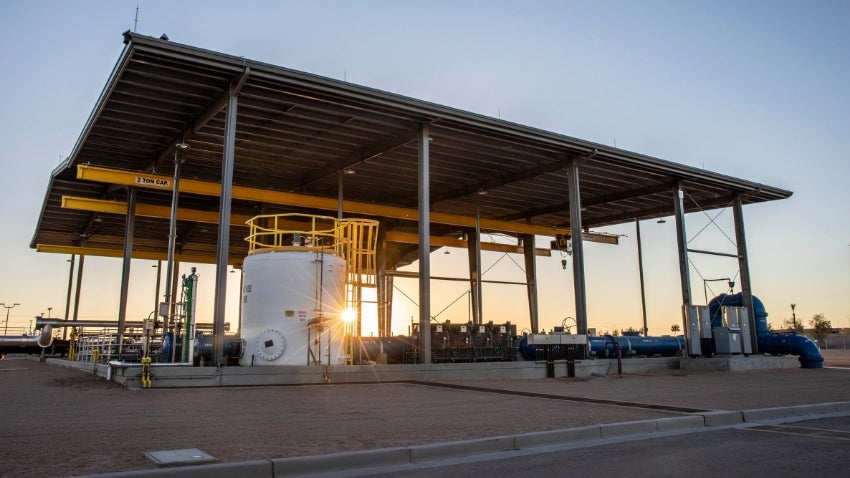 Water reuse is vital to sustainable water management in the desert. Chandler has invested in wastewater collections systems, water reclamation facilities and a network of pumps and pipes to deliver reclaimed water to parks, schools, churches, businesses, golf courses, HOAs and City owned aquifer recharge facilities.
In Chandler, every drop of water that is used indoors is recycled and used again! Reclaimed water is wastewater that has been treated to very high standards for reuse in landscape irrigation, fountains, lakes, industrial use and aquifer recharge. It is a vital part of Chandler's water supply and allows the City to reduce demand for surface water supplies, saving our drinking water supplies for the future.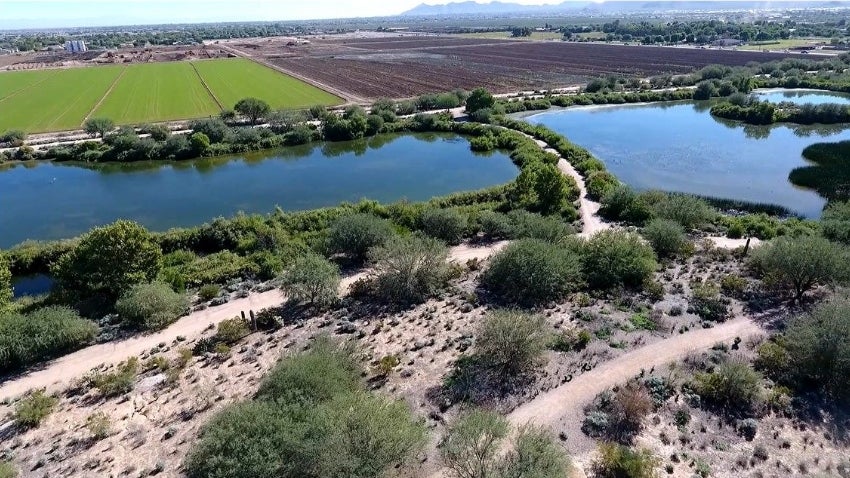 Chandler's Veteran's Oasis Park includes 32 acres, divided into five basins, dedicated to aquifer recharge for sustainable water management. The recharge basins at Veteran's Oasis Park provide multiple benefits to the community, such as riparian habitat for birds and other wildlife, plus an expansive network of nature trails for recreational purposes.
What is a recharge basin? Chandler delivers reclaimed water to constructed infiltration basins, specifically engineered to ensure water quickly percolates down through a layer of sand and gravel, replenishing the water table deep below land surface. Managing our groundwater supplies improves Chandler's drought resilience during surface water shortages.
Reclaimed water is carefully tested and is much cleaner than the water found in many rivers and canals. However, you shouldn't drink or swim in reclaimed water.
Our Reclaimed Infrastructure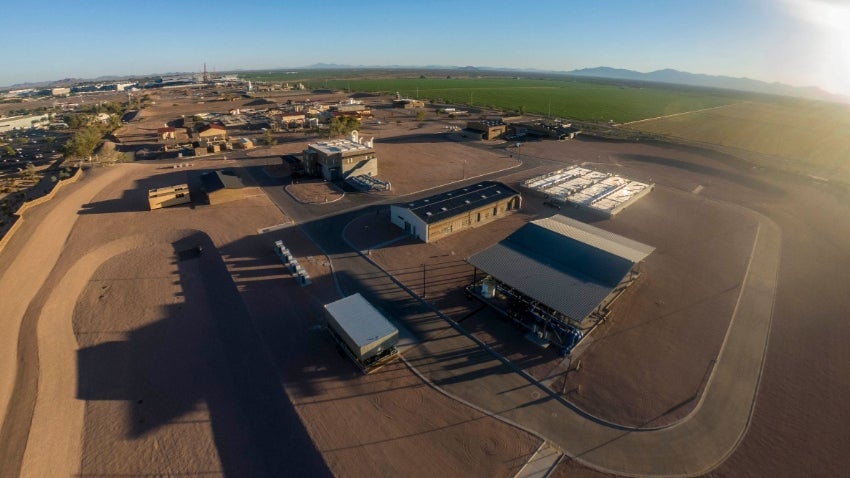 Chandler has invested in the pumps, pipes and water reclamation facilities to treat roughly 11 billion gallons of wastewater each year. By using reclaimed water instead of drinking water supplies, the City has reduced the demand for surface water and groundwater by 11 billion gallons per year.
Chandler's reclaimed water system includes roughly 1,000 miles of wastewater collection pipes, 3 water reclamation facilities and 93 miles of distribution pipes (purple pipe) for delivery of reclaimed water supplies.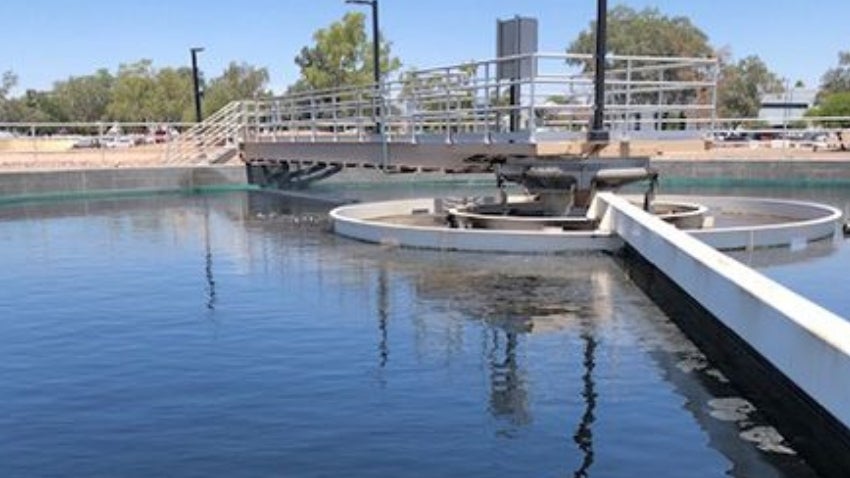 South Chandler was mostly farmland in the 1970's. The arrival of Intel and other supporting businesses in the area spurred rapid growth in the 1980's. 
During this time, a group of developers wanted to build the Ocotillo neighborhood and asked the City to secure water supplies for this new neighborhood. The project resulted in a creative partnership between the City and the developers working to build the Ocotillo community. Chandler's reclaimed water system was conceived, and the rest is history.
A System Built for Growth
What makes Chandler's reclaimed water system truly innovative is the integration with City code. As South Chandler has developed, the City required developers to install their own "purple pipes" for easy access to the City's reclaimed water supply. You'll know these pipes by the color — all reclaimed water pipes in Chandler are purple.
Because Chandler had the foresight to require developers to build reclaimed pipes before they develop, the system was able to grow without costly digging or renovations down the road.
Still today, Chandler's City Code requires any development that will include a common area with more than five acres must use reclaimed water if they are located within the reclaimed delivery area.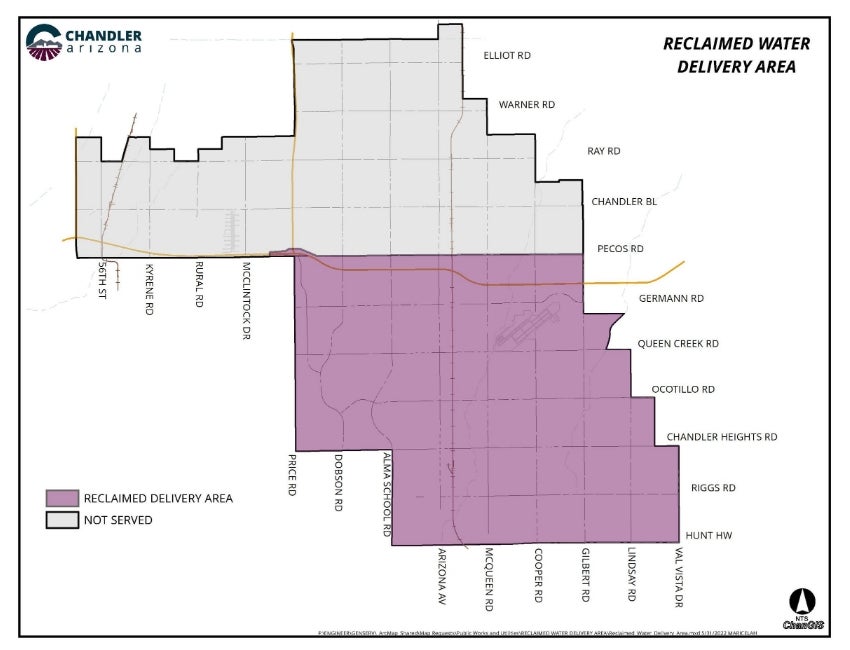 Why Do We Have So Many Lakes in South Chandler?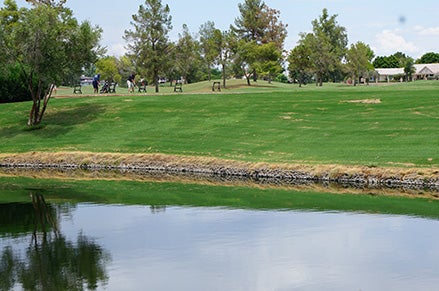 These lakes are filled with reclaimed water and serve an important function to help Chandler manage supply and demand in the reclaimed water distribution system. In addition to being nice to look at, many of these lakes serve as short-term storage for reclaimed water.
Reclaimed water stored in lakes also provides flexibility for HOAs, parks and golf courses, allowing these customers to manage their changing demands. When demand is low, they allow the lakes to fill. When demand increases, they can pump water directly from the lake to be used for irrigation purposes.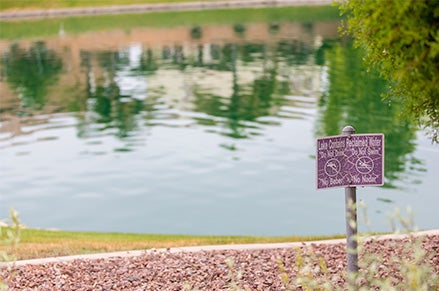 Spot the Reclaimed Water in Chandler
How do you recognize areas that utilize reclaimed water? Look for the purple valve boxes, sprinkler heads and signs to know you're in an area making good use of our precious resource. 
Reclaimed water is carefully tested and is much cleaner than the water found in many rivers and canals. However, you shouldn't drink or swim in reclaimed water.