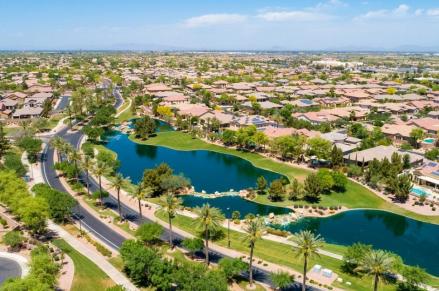 As a large landscape water customer in Chandler, you have an opportunity to participate in the FREE Large Landscape Water Efficiency Program. This program has proven to be a valuable resource for other Maricopa County customers by helping improve landscape irrigation efficiency. Access to this program provides FREE landscape water use reports to help save money and water.
Participation in the Large Landscape Water Efficiency Program is limited and with every billing cycle (approximately 1 month), you will receive an updated report to assist you with your landscape water management. Each report will include a historical summary of irrigation use compared to a customized landscape water budget.
Each report will give you instant online access where you can:
Access historical water use information for previous years
Compare water use for multiple sites
Compare landscape maintenance companies by how efficiently they irrigate
Designate others, such as landscaper or property manager, to view the reports
View your site map with our square footage estimates of irrigated area
See rebate offers from the City of Chandler
In some cases, request a free landscape field survey from an irrigation expert
This program is offered through the City of Chandler and administered by our third party provider, Waterfluence. Register today, space is limited. If you have any questions, feel free to contact Water Conservation at 480-782-3589.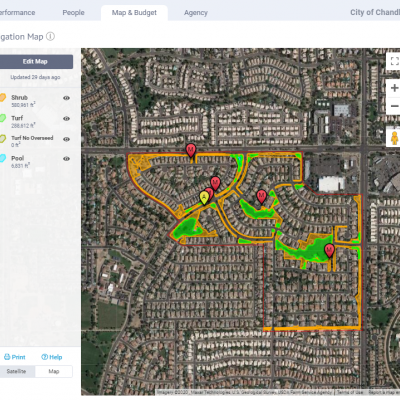 If accepted, participants should expect the following: 
Waterfluence will provide a report for each site containing customer information, site characteristics, historical water use, a water budget range based on site characteristics and daily local weather during that billing cycle, customized messaging, and peer-based irrigation performance metrics.
A map will be created for each site using aerial imagery. The maps include measurements of irrigated turf, irrigated shrubs/trees, and water features.
Waterfluence and City of Chandler staff will maintain and manage site contacts to maximize program engagement.
City of Chandler will send specific messages to sites. Messages might include information on other landscape programs, events, useful hyperlinks, or irrigation policies.
Waterfluence continuously maintains the features and security of its online platform software.
All site contacts get access to view their site information via the online Waterfluence platform. Contacts can authorize third parties such as HOA board members and landscape contractors to access their site information.
Frequently Asked Questions
The dashboard enables you to evaluate your site's water use at a glance every billing period. Calculating water budgets can be difficult, so we do it for you. The City of Chandler supports this program to promote efficient use of limited community water supplies. It is a free service to you.  
The dashboard can benefit all parties involved with irrigation at the site including bill payer, site manager, landscape contractor, board member, or other relevant parties. You can designate an unlimited number of people to access the dashboard using our website to add/edit contact information.  
The budgets are designed to provide ample water for attractive, healthy landscapes! Each site gets a customized water budget based on our estimates of irrigated area, type of plants, type of irrigation system, and local daily weather (evapotranspiration minus effective rainfall). Minimizing waste is the objective as excess water is usually lost as runoff, percolates past root zones, compromises plant health, damages surrounding structures, erodes paving, and needlessly increases water costs. Our reports show water budgets in a plus or minus 15% range to allow for variance in site circumstances. Sites should strive to have water use consistently in the water budget range each month.  
With respect to irrigation performance, it shows the percentile ranking of this site relative to peer sites located throughout Arizona. If a site's water use stays within the +/- 15% Budget Range, its score is 100. A score of 75 means a site has a better rating than 75% of its peer sites. A score of 50 means half of peers are doing better and half worse. A score of 25 means a site is doing better than only 25% of its peers. Water use outside the Budget Range reduces the score. Water use below the Budget Range lowers the score by one third as much as water use over the Budget Range.  
Review the irrigated area assumptions, and if needed, send us corrections. The seasonal pattern of water use should coincide with the water budget through the seasons. Have a qualified person review and correct any mechanical or scheduling issues with the irrigation system. The report may indicate there are problems, but fixing them is up to you.  
Contact Waterfluence by visiting Waterfluence or call 800-800-9519. Waterfluence can provide recommendations, identify possible financial incentives from your water provider, correct water budget assumptions, and update the people receiving the reports. On a limited basis, Waterfluence may also have irrigation experts that conduct free landscape field surveys.