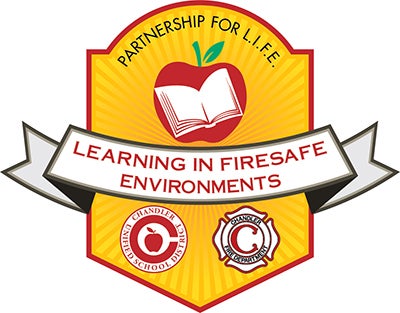 Parents of Chandler first- and second-graders can feel confident that Chandler Unified School District elementary schools are safer thanks to a partnership between the district and the Chandler Fire Department (CFD). 
The CFD Partnership for L.I.F.E. (Learning In Firesafe Environments) program is a successful collaboration that involves teachers and custodians in the safety inspection process and targets first- and second-grade students for fire safety instruction.
CFD Fire Pals – a group of firefighters who are experienced and trained to educate students in fire safety – teach students these important lessons: Home Escape, Crawl Low Under Smoke, When Clothes are on Fire, Smoke Alarms, Match and Lighter Safety, and the 9-1-1 System.
Since it was first introduced two years ago, the program has developed widespread support from school staff and produced dramatic increases in fire safety test scores for students. Elementary schools that choose to partner with the Chandler Fire Department participate in the program by completing the safety initiatives described below.
Schools will allow the Fire Pal (specially trained firefighters who educate) program to educate all 1st and 2nd-grade students in six fire safety subjects. These six messages include:
Home Escape and Planning
Stop, Drop and Roll
Crawl Low Under Smoke
Smoke Alarms
Match & Lighter Safety
Calling 9-1-1
Schools will engage in their regular monthly fire drills and invite Chandler Fire to evaluate one of these drills each year.
Teachers and Custodians will use a self-inspection form to evaluate their areas for commonly found fire hazards.
Schools will be inspected annually by a Chandler Fire Inspector.
Schools will ensure that at least 10% of their staff is CPR certified.
For more information about this new program, please call the Chandler Fire Department at 480-782-2063 or email Firesafe Schools. 
Partnership for L.I.F.E. Program Materials for Elementary Schools
Self-Inspection Checklist