After September 11, 2001, America witnessed a wellspring of selflessness and heroism.  People in every corner of the country asked, "What can I do?" and "How can I help?" Citizen Corps was created to help all Americans answer these questions through public education and outreach, training, and volunteer service. The scope of the program varies from community to community.
The Chandler Fire Department established a self-preparedness program as part of the City's Emergency Operations Plan (EOP) and local homeland security response.  The program is based on the FEMA's Community Emergency Response Team (CERT) basic course curriculum.  The purpose of the program is to teach Chandler's residents individual preparedness and copying skills to take care of themselves and their families following a natural or man-made disaster for up to 72 hours, or until help arrives to assist them.
We accomplish our mission by offering a free two-day course to people who want to learn how to take care of themselves during a disaster.  In the course, students learn disaster preparedness skills through hands-on and classroom training.  Participants will learn about the types of hazards that might affect Chandler and examine the roles and responsibilities of various organizations within the community, such as police and fire departments, other government agencies, public utilities and nonprofits.  Constructing family emergency kits for homes and vehicles is also a critical of community preparedness. 
Sign up to get trained by contacting Chandler Fire Department at 480-782-2120.
 Maricopa County Emergency Management Resources
State of Arizona Emergency Management Resources
Department of Emergency and Military Affairs - The Division of Emergency Management coordinates the State of Arizona's emergency preparedness, response and recovery efforts in order to reduce the impact of emergencies and disasters on people and property in the Whole Community.
Federal Emergency Management Resources
Ready.gov - Prepare. Plan. Stay Informed.
Federal Emergency Management Agency (FEMA) - The primary mission of the Federal Emergency Management Agency is to reduce the loss of life and property and protect the Nation from all hazards, including natural disasters, acts of terrorism, and other man-made disasters, by leading and supporting the Nation in a risk-based, comprehensive emergency management system of preparedness, protection, response, recovery, and mitigation.
U.S. Department of Homeland Security - Visit this Federal Web site for more on terrorism threats and emergency preparedness.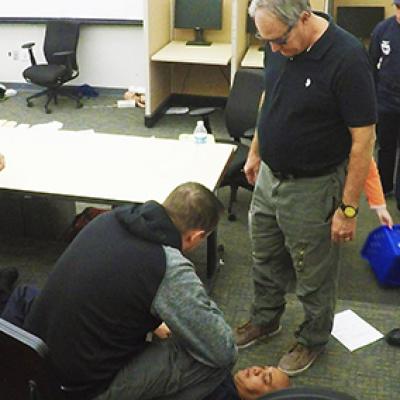 Basic CERT Course