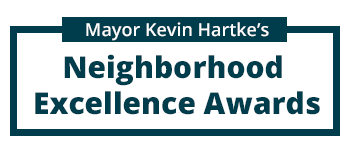 Mayor Kevin Hartke has long been a supporter of active and engaged neighborhoods. The Neighborhood Excellence Awards is a way to recognize neighborhoods that participate in G.A.I.N., and the leaders working to improve their community and inspire others to be more active and involved. 
To be eligible for nomination, your neighborhood must have participated in the previous year's G.A.I.N event.
 
People's Choice Award Nominees
Online voting will take place 8 a.m. Monday, Sept. 2, through 5 p.m. Monday, Sept. 16.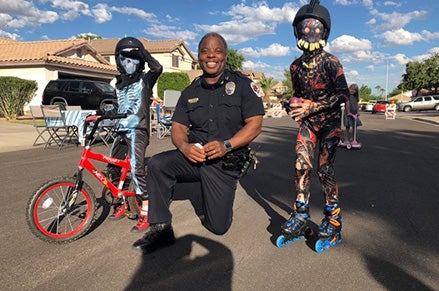 On G.A.I.N. night in 2018, our community hosted a movie at the ramada. We showed the movie Hotel Transylvania. It was a beautiful night and we had visits from many of Chandler's finest. Our kids loved the popcorn, cotton candy, the teal pumpkin toys and the giant Halloween inflatables. They also had fun tossing around a football with Officer Stover and posed for pictures with Eddie Eagle and McGruff. Commander Upshaw helped us anchor our large inflatable castle at the entrance of our ramada when the wind picked up and some officers even joined our efforts to combat mosquitoes by wearing our Bounce dryer sheet "ghosts".
Our community leaders love the GAIN night festivities because we know the importance of having community children exposed to the Chandler PD in a positive experience. We enjoy very low crime in our area and really appreciate the great work of the Chandler Police Department. We also actively promoted the Ring Neighbors App partnership with the police department.
We were extremely lucky to have financial support from several of our HOA vendors and neighborhood businesses donated door prizes too. Although we have had other community celebrations, this was our first movie event and from the positive feedback we received, we are already planning our movie night activities for the upcoming GAIN night on October 19, 2019.
We love our community and would really appreciate any financial support from the City of Chandler through this Neighborhood Excellence Award. Maintaining a large community is not inexpensive and finding money for the "fun" things is sometimes difficult.
We appreciate your consideration for this award. Thank you!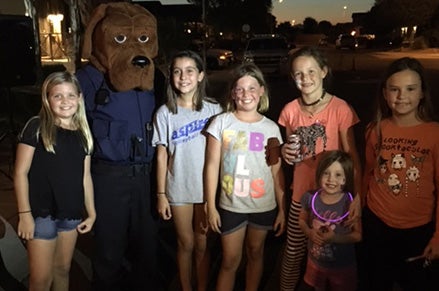 Thank you in advance for your consideration of Homestead Park for the Neighborhood Excellence Award. To describe what makes Homestead Park special is to describe the commitment to community that my fellow neighbors and I share for each other and for the Chandler community. We like to embody the spirit of what it means to be a true neighbor from helping each other with weekend chores to sharing hobbies and expertise with the neighborhood kids. We celebrate holidays together and look forward to the opportunities to enjoy each other's company. 
In that tradition, our involvement in Chandler's G.A.I.N. program is one of our most treasured and enjoyed events each year. As the selection committee can see, we at Homestead Park are committed to strengthening the connection between the community and our Chandler Police, Fire, and elected representatives. These pictures speak volumes with each smile of both the officers and firemen who attended our last G.A.I.N. event as well as the smiles of the children, parents and fellow neighbors who relish the opportunity to interact with our first responder community. 
Nothing would make our next G.A.I.N. event more special than the opportunity to represent our community and the spirit of Chandler than by being selected as one of the finalists in the Chandler Neighborhood Excellence Awards. So stop by, sit with us, eat with us, and chat with us as we can't wait to have you over.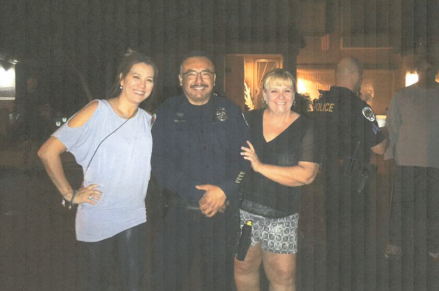 The G.A.I.N. event is so incredibly fun and so important for our neighborhood for its continued, partnership with the Chandler Police Department. This is the perfect time of the year while enjoying the cooler weather for Sun Groves neighbors to get together. During the annual G.A.I.N. block party. Those who know each other catch up while those who are new to the community get to meet their neighbors and interact with the Chandler Police Department.
This Sun Groves G.A.I.N. event is what G.A.I.N. is all about, "Getting Arizona Involved in Neighborhoods". It is fun for the adults sharing good food and beverages while watching the kids having a blast with the planned events and amazing weather. Ever since my kids were small I have been involved in planning this awesome event which has continued for 13 years. As a result, my kids, along with many others will have amazing everlasting childhood memories of the Sun Groves community where they grew up.
We are truly blessed to live in such a wonderful, caring neighborhood that remains safe because of both the commitment of our neighbors and the Chandler Police Department. Their involvement, time and sharing of knowledge is what makes this event a continued success year after year. We hope that this will remain a tradition for many years to come.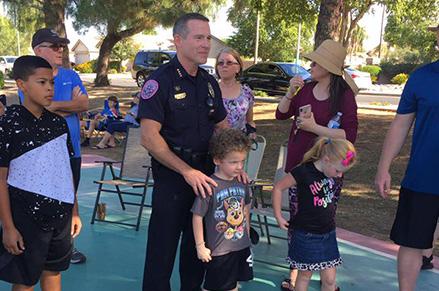 I have lived in Willis Ranch since April 2015. At first, it was hard to get to know my neighbors. We have this beautiful park across the street from my house and we hardly ever saw children playing, families walking around. I put a comment on the Next Door site asking for some information regarding some fun events. Angela Edington, a neighbor, suggested we start meeting ... since then, we have had events at the park. 
We are on our third year of a community GAIN BBQ on the City of Chandler Get All Involved in Neighborhoods. We were flabbergasted to see the whole city council get off a van to say hello. The canine unit came and showed off, motorcycles and cars from the police departments, the fire truck came by to say Hi. We BBQ'd hot dogs and hamburgers, played corn hole, the children were riding their bikes, playing basketball and played at the playground. Plus we have a raffle, so we can keep count on how many show up for the GAIN event. Last year, we had over 100 neighbors.
Every year we meet new or old neighbors. Come Out and Play Chandler!! Our events go year-long ...We have had donuts in the park, that was our first event and was successful. We have had the fire department come out once to talk to the children about safety on a warm June morning. Plus Movies in the Park, the HOA bought us a screen to save money and we can enjoy more often. We have tried two community
garage sales per year too. And we have a Christmas Light Display contest where the community votes for the top 3.
At first, we had only expected at least 20% involvement ... we are now up to at least 35%. Maybe higher, as the GAIN goes on all afternoon and neighbors and come and go as needed. We also have a Neighborhood Watch started in the Willis Ranch Community. That meeting will be September 10th with our new CPD rep, as Officer Tina has retired from CPD.
Now, we see the community park always busy with children and parents playing basketball, riding bikes, walking the community. Willis Ranch is a beautiful fun and friendly community! WE LOVE CHANDLER!!
Chandler's Neighborhood Excellence Awards Winners
The winners will be announced at the 2019 GAIN Kick Off, at 9 a.m. Saturday, Sept. 21, 2019, at the Chandler Police Department, Main Station, Community Room, located at 250 E. Chicago St., Chandler, AZ 85225.
The People's Choice Award Winner2 will receive the following:
1) First place pick in the 2019 GAIN event lottery
2) A choice of a bounce house or event tent (canopy) for their 2019 GAIN event 3
3) Up to $50 towards water, plates, napkins or utensils for their 2019 GAIN event 4
4) See below*
The Mayor's Choice Award Winner2 will receive the following:
1) Second place pick in the 2019 GAIN Event Lottery
2) A choice of a bounce house or event tent (canopy) for their 2019 GAIN event 3
3) Up to $50 towards water, plates, napkins or utensils for their 2019 GAIN event 4
4) See below*
To nominate your neighborhood, email Neighborhood Programs by Friday, Aug. 23, 2019. All entries must be received by 5 p.m. to be eligible.1 Please include the following information with your entry:
Neighborhood representative, email address, phone number and address
Neighborhood web page or social media accounts, if applicable
Major cross streets
The additional information required for the entry will be made available to the public if your neighborhood is nominated:

Full name of the neighborhood and/or Neighborhood Watch group
In a few words, please describe your neighborhood's participation in the 2018 GAIN event. Let us know what made your event special and why you should be nominated.
Include a minimum of two photos (.jpg format)
All neighborhood entrants will be evaluated by Crime Prevention Officers, Neighborhood Programs staff and the Neighborhood Advisory Committee to determine the top finalists for each category. All nominees will be notified via email.
Online voting will take place 8 a.m. Monday, Sept. 2, through 5 p.m. Monday, Sept. 16, 2019.
1. To be nominated, you must be active in Neighborhood Watch and your contact information must be current with the Crime Prevention Unit. You also must have participated in the 2018 GAIN event.
2. 2019 Winners will not be eligible to win two consecutive years in a row.
3. The rental of items must be coordinated through the Neighborhood Programs Office and cannot exceed $500. Other activities may be considered but they must be reviewed for appropriateness by the Neighborhood Programs Office. The purchase of these items must be coordinated through the Neighborhood Programs Office.
4. For events that fall between 3-7 p.m., a member or members of Chandler City Council will be scheduled to attend.