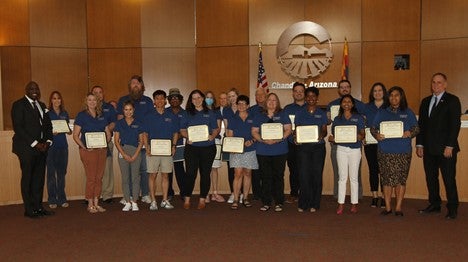 Mayor Kevin Hartke believes civic engagement is vital to properly address the needs and future of this community and has created CIVIC to better engage our residents. CIVIC is an interactive, 13-session program providing Chandler residents with a behind-the-scenes look at city services.
This free program will continue in January 2023 and is the latest offering by the City of Chandler to help residents connect with their government. Each session, participants will meet with city leaders, tour facilities that keep our city running, participate in interactive sessions and learn how to stay engaged with the city and in their community. Through CIVIC you can participate in activities such as an interactive firefighter training simulation, tour Chandler's water reclamation facility, and take part in a mock legislative hearing to learn more about the ins and outs of the Chandler government.
Program Details
CIVIC sessions will generally take place every other Wednesday from 4:30 – 7 p.m. at various locations throughout Chandler. An overview of topics to be covered and session dates is outlined below.
Please note: Dates and topics are subject to change.
Date
Topic

Wednesday, Jan. 18

Orientation and Welcome
Mayor

Wednesday,

Feb. 1

Fire Department

Wednesday, Feb. 15

City Council, City Manager, 

City Clerk

Thursday, Feb. 16


(Optional)

State of the City

Wednesday, March 1

Law & Courts

Friday, March 10


(Optional)

Strategic Initiatives

Wednesday, March 15

Economic Development, Cultural Development & Diversity, Equity and Inclusion

Wednesday, March 29

Airport

Wednesday, April 12

Public Works & Utilities

Wednesday, April 26

Neighborhood Resources and Communications & Public Affairs

Wednesday, May 10

Management Services and Human Resources
Wednesday, May 24
Police Department
Wednesday, June 7
Community Services
Wednesday, June 21

Transportation Policy & Development Services

Monday, June 26


(TBD)

Closing Event & Council Graduation
Eligibility
To be eligible to participate in CIVIC, you must:
Commit to attending at least nine CIVIC sessions

Be a Chandler resident

Be 18+ years of age

Not be currently employed by the City of Chandler
Application

 
Applications were accepted Nov. 1 – Dec. 2, 2022
Twenty-five residents will be selected for the third CIVIC cohort. Applications will be competitively ranked based on the thoroughness of the application, demonstrated interest in the program, and communicated desire to be involved in their community and local government. If you are not selected for the 2023 program, you will be given priority for future CIVIC cohorts.

More Information
Contact Alexis Apodaca, Government Relations Coordinator, at 480-782-2216.