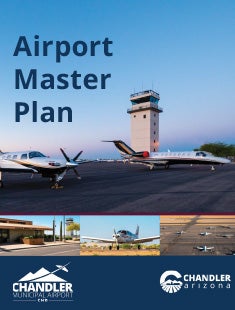 The current master plan for the Chandler Municipal Airport (CHD) was approved by the City Council and accepted by the Federal Aviation Administration (FAA) in 2021. The master plan provides proper guidance for existing and future development, which will satisfy aviation demands while maintaining compatibility with the surrounding environment and community. Specific master plan objectives for Chandler Municipal Airport are:
Maintain and ensure safety and security for the airport.
Plan for phased, incremental development that meets foreseeable aviation demand and maintains flexibility for change.
Produce Airport Layout Plan (ALP) drawings consistent with Federal Aviation Administration (FAA) standards that can be utilized in determining grant eligibility and funding.
Airport Master Plan