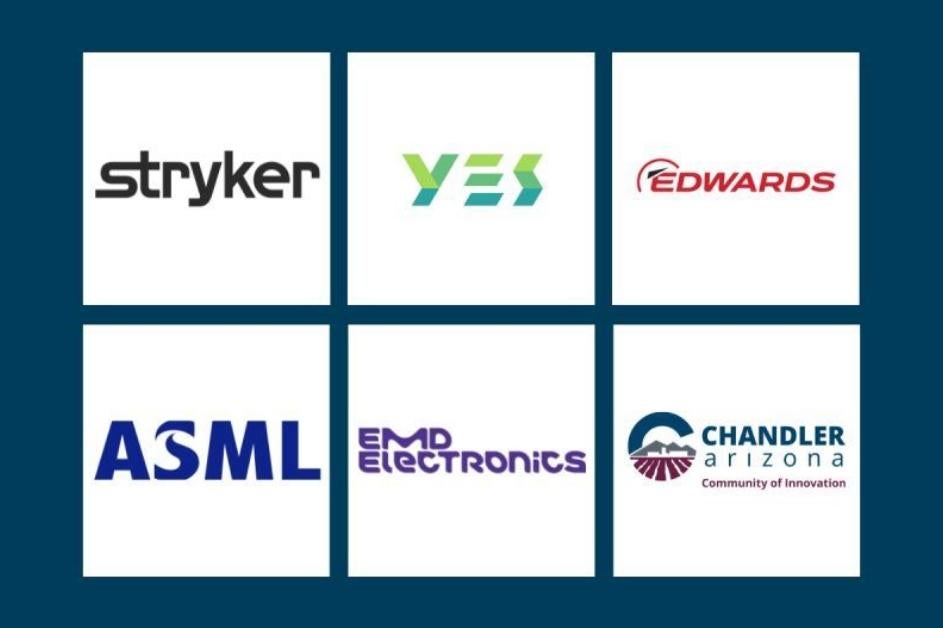 As we continue to celebrate National Manufacturing Month, here are a few manufacturing/semiconductor companies that have recently announced new or expanding business operations within the City of Chandler:
Yield Engineering Systems
Semiconductor innovator, Yield Engineering Systems (YES) recently signed a 123,000 square foot lease on Chandler's Price Corridor to support the company in serving the region's thriving semiconductor industry.
YES develops and manufactures thermal, deposition, and wet process equipment that is used in semiconductor, life sciences, and display manufacturing.
The Chandler facility will house a "Technology Center" with R&D functions, cleanroom operations, advanced manufacturing, customer support, and office space.
"Our new Technology Center will provide us with valuable proximity to key customers and vendors, as well as access to the highly-skilled workforce that defines Chandler's business ecosystem," said Rezwan Lateef, President of YES.

Edwards Vacuum
Edwards, the leading supplier of vacuum and abatement services and solutions to the global semiconductor industry, recently announced its investment in a new state-of-the-art manufacturing facility in Chandler.
The new 200,000-square-foot facility will leverage the latest manufacturing and digital technologies to support the fast-growing North American semiconductor market with services and solutions for the efficient and environmentally sustainable production of chips.
"At Edwards, we have a long tradition of supporting our customers with local service and manufacturing capabilities, and our investment in the Chandler facility continues that tradition," said Troy Metcalf, President of Edwards Semiconductor Service.
EMD Electronics
EMD Electronics, the North American Electronics business of Merck KGaA, Darmstadt, Germany, earlier this year announced a new factory in Chandler to manufacture equipment for its Delivery Systems & Services (DS&S) business.
As part of the Level Up program, the $28 million investment will enable DS&S to capture and grow its gas and chemical delivery systems business in the targeted regions of North America and Europe, with supplemental capacity to supply Asia. The company expects to start operations in the new factory by the end of 2022.
If you are looking for a rewarding career, EDM will be hosting a hiring event on Thursday, Oct. 20 at the Hilton Phoenix Chandler hotel, located at 2929 W. Frye Rd.
"We are proud to expand our production capacity and innovation footprint in Arizona and to contribute to the state's development as a major semiconductor hub in the U.S," said Katherine Dei Cas, Head of the Delivery Systems & Services business unit within the Electronics business sector of Merck KGaA, Darmstadt, Germany.
Stryker
Stryker, one of the world's leading medical technology companies, has leased a new 104,000 square foot building in Chandler. The new facility is a significant expansion of its existing Sustainability Solutions operations within the region.
Stryker's multi-million-dollar investment at its new site is estimated to bring more than 280 new jobs to Arizona over the next few years. These new positions include production associates, engineers, and technicians.
The Sustainability Solutions division handles the reprocessing of single-use medical devices, which involves collecting used devices and inspecting, cleaning, testing, sterilizing, and re-packaging them before they are returned to hospitals for another use. Stryker reprocesses more than 20 million devices per year with a 99.98% success rate, which has diverted 25 million pounds of waste from landfills over the past five years.
 "Stryker's ongoing investment into Arizona, and specifically Chandler, further demonstrates the value we see in this community. We've been fortunate to work with many great organizations over the years, which ultimately helped make this expansion into Chandler a reality," said Brian White, president of Stryker's Sustainability Solutions division.
ASML
Netherlands-based ASML signed a seven-year, 38,000 square foot office sublease on Price Corridor.
ASML provides chipmakers with everything they need – hardware, software, and services – to mass produce patterns on silicon through lithography.
"Chandler continues to be a place where companies like ours can recruit a diverse and talented workforce, and we look forward to supporting the expansion of local semiconductor manufacturing capabilities from our new office," said Scott Wiberg, location manager at ASML Chandler.
For more Chandler, Arizona business news and updates — be sure to follow us on LinkedIn and Twitter and sign up to receive our monthly e-Newsletter.