July 21, 2021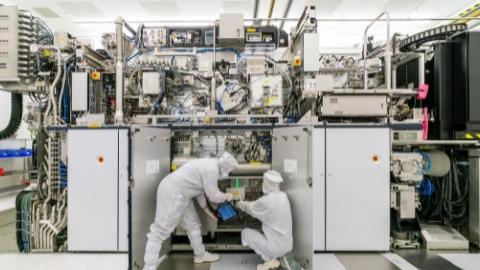 CHANDLER, Ariz. – Netherlands-based ASML has signed a seven-year, 38,000 square foot office sublease on Price Corridor at 2625 W. Geronimo Place. ASML is currently located in the same business park, Chandler Freeways Crossing, in a different building. Tenant improvements are expected to be complete later this year with ASML moving into their new building in December.
ASML provides chipmakers with everything they need – hardware, software and services – to mass produce patterns on silicon through lithography. With 14 customer support sites, two factories and three R&D centers in the U.S., ASML is an important development and manufacturing partner servicing chipmakers worldwide.
Founded in 1984, ASML established its first U.S. office in Arizona, which remains home to its U.S. Global Support Center for customers, along with sales and other support departments. The Customer Support department helps deliver predictable leading-edge lithography manufacturing capacity to chipmakers with around the clock support to all field service engineers.  
This new sublease will allow ASML to continue growing their engineering workforce in Chandler. ASML currently has 300 employees in Chandler with plans to grow up to 400 employees within the next few years. Hiring is beginning this summer in dozens of engineering disciplines that must come together to work with lasers, accelerometers, optics, servos and control systems daily.
"Chandler continues to work with companies from all facets of the semiconductor supply chain that are looking to expand," said Chandler Mayor Kevin Hartke. "ASML has had a long-term presence in Chandler and we are thrilled to see them recommit to Chandler with this long-term sublease. We are confident that Chandler offers the quality of life and amenities that these highly-skilled workers demand."
"We have enjoyed operating in Chandler over many years and ASML is excited to announce this additional hiring growth to support our local customers," said Scott Wiberg, location manager at ASML Chandler. "Chandler continues to be a place where companies like ours can recruit a diverse and talented workforce, and we look forward to supporting the expansion of local semiconductor manufacturing capabilities from our new office."
About ASML:
ASML is one of the world's leading manufacturers of chip-making equipment. Our vision is a world in which semiconductor technology is everywhere and helps to tackle society's toughest challenges. We contribute to this goal by creating products and services that let chipmakers define the patterns that integrated circuits are made of. We continuously raise the capabilities of our products, enabling our customers to increase the value and reduce the cost of chips. By helping to make chips cheaper and more powerful, we help to make semiconductor technology more attractive for a larger range of products and services, which in turn enables progress in fields such as healthcare, energy, mobility and entertainment. ASML is a multinational company with offices in more than 60 cities in 16 countries, headquartered in Veldhoven, the Netherlands. We employ more than 28,000 people on payroll and flexible contracts (expressed in full time equivalents). ASML is traded on Euronext Amsterdam and NASDAQ under the symbol ASML.
About the City of Chandler:
Chandler, Ariz. has built a reputation as a Community of Innovation. Life in Chandler goes beyond a thriving and dynamic business community with progressive entrepreneurship. Known for its rich diversity, the City offers an outstanding quality of life for all generations with great schools and recreational opportunities. Chandler has grown to become the state's fourth largest City with a population of more than 268,000. Chandler has been named one of the nation's Best Places to Find a Job and Best Cities for Women in Tech. The City also is one of the safest communities in the nation and boasts AAA bond ratings from all three national rating agencies, one of only 40 communities to achieve this distinction. For more information, visit the City website, or connect with the City on social media.
 
Media contacts:        
Brittney Wolff
ASML
U.S. Corporate Communications Manager
Stephanie Romero   
City of Chandler, Public Information Officer
480-782-2231