May 31, 2022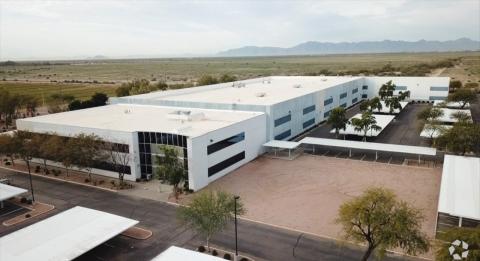 The facility will support U.S. semiconductor manufacturing, creating 100 jobs
CHANDLER, Ariz. — Yield Engineering Systems, known by the acronym YES, has leased 123,000 square feet at 3200 W. Germann Road within the acclaimed Price Corridor. The facility will support YES in serving the region's thriving semiconductor industry.
YES develops and manufactures thermal, deposition, and wet process equipment that is used in semiconductor, life sciences, and display manufacturing. The Chandler facility will house a "Technology Center" with R&D functions, cleanroom operations, advanced manufacturing, customer support, and office space.
The company plans to have approximately 100 highly educated employees based at the Chandler facility, mostly in technology and engineering positions. The multimillion-dollar capital investment to build out the space will enable the development of advanced technology that supports the US semiconductor manufacturing sector.
"The long-term vision for Price Corridor continues to be realized as we welcome another dynamic and market-leading company to Chandler," stated Chandler Mayor Kevin Hartke. "We would like to thank YES for their investment and trust in Chandler, as we know there are many options throughout the world for cutting-edge facilities like this."
"Our new Technology Center will provide us with valuable proximity to key customers and vendors, as well as access to the highly skilled workforce that defines Chandler's business ecosystem," said Rezwan Lateef, President of YES. "We are grateful to Chandler's Economic Development team, Greater Phoenix Economic Council, and Arizona Commerce Authority for their assistance with this major milestone in our mission to serve the semiconductor market as a preferred provider." Mark Donahue is the local YES manager overseeing the project.
"The Greater Phoenix semiconductor ecosystem has quickly become a top global destination for leading manufacturers like YES," said Chris Camacho, President and CEO of the Greater Phoenix Economic Council. "This multimillion-dollar investment provides high-quality job opportunities for residents, and we look forward to supporting YES in its future growth and successful integration into the market."

"YES marks another California-based company drawn to Arizona, highlighting the state's unmatched business climate," said Sandra Watson, President and CEO of the Arizona Commerce Authority. "We are grateful to YES for their commitment to Arizona, creating new jobs while strengthening the state's robust semiconductor supply chain."
About Yield Engineering Systems (YES):
Yield Engineering Systems, Inc. (YES) is a preferred provider of high-tech, cost-effective equipment for enhancing surfaces and materials. The company's product lines include thermal processing systems, chemical vapor deposition (CVD) systems, and wet process equipment used for the precise surface modification of semiconductor substrates, semiconductor and MEMS devices, LED displays, and biodevices. Customers ranging from startups to Fortune 100 companies rely on YES systems to create and volume-produce innovative products in a wide range of markets. YES is headquartered in Fremont, California, with a growing global presence. For more information, please visit Yield Engineering Systems.
About the City of Chandler:
Chandler, Arizona has built a reputation as a Community of Innovation. Life in Chandler goes beyond a thriving and dynamic business community with progressive entrepreneurship. Known for its rich diversity, the City offers an outstanding quality of life for all generations with great schools and recreational opportunities. Chandler has grown to become the state's fourth largest City with a population of more than 282,000. Chandler has been named one of the nation's Best Places to Find a Job and Best Cities for Women in Tech. The City also is one of the safest communities in the nation and boasts AAA bond ratings from all three national rating agencies, one of only 40 communities to achieve this distinction. For more information, visit the City website, or connect with the City on social media.

Media contacts:        
Victoria Barnes
Yield Engineering Systems, Director of Communications
510-954-6889 main | 510-954-6723 direct

Stephanie Romero   
City of Chandler, Public Information Officer
480-782-2231