In 2016, the Chief Justice of the Arizona State Supreme Court asked lower courts to use technology to make court payments simpler and more fair within the system.
Chandler Municipal Court took these new recommendations and ran with them, deciding that changing when and how it notifies defendants was the best place to start. 
After years of research and development, Chandler Municipal Court implemented an automatic text reminder system in April of 2019. At this time, the court began sending defendants reminders when they had an upcoming or missed court date or payment.
"A lot of times people just forget to write it down, or when they leave court they have 100 other things on their mind. Not everybody has the ability to save a note in their iPhone," said Judge David Fuller, Chandler's Presiding City Magistrate. 
The City tested the new system to see what a relatively simple change could do to the number of people who fail to appear in Court. The impact on the system was nearly immediate. 
"The text notification system has greatly reduced failures to appear," Fuller said.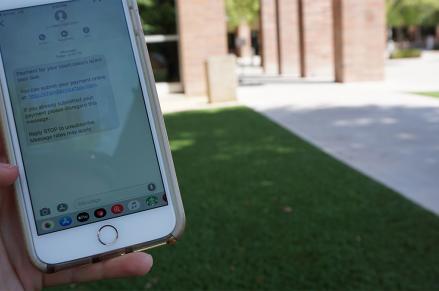 When people miss court dates, they may be deemed "at risk to not appear" for future trials, increasing their chances of pretrial incarceration.
Giving defendants a new tool to keep from missing dates is one important method the Court system uses to be more fair and lower stress for the community it serves. 
"It's a great innovation," Fuller said. 
The graph compares the number of people who failed to appear for their court dates in April of 2018, before the text reminders were implemented, to April of 2019, after the text reminders were implemented.
In the month of April alone, the number of people who failed to appear for their scheduled court date dropped by about 20 percent, a number that has remained consistent as a whole since the system's implementation, according to Fuller.
As an added bonus, the City only pays roughly $120 a year for the entire system.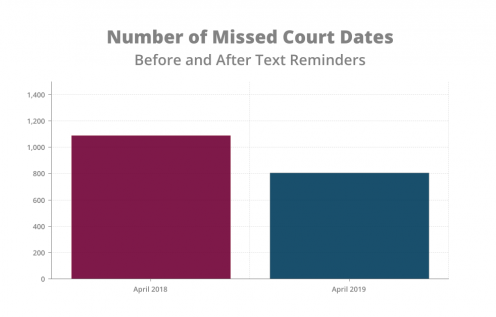 "It has helped quite a bit, and the investment is minimal," said Cristina Dinchak, the business systems support analyst for the Chandler Municipal Court.
Although a seemingly simple concept, the idea of sending text message reminders to notify defendants of upcoming and missed court dates and payments was a relatively new concept when Chandler took on the task of implementing the system. 
Not many municipals courts do it.  One concern associated with sharing personally identifiable court information via text is protecting that information. To avoid this issue in Chandler, Dinchak looked at text notification models in other city courts. From there, she worked with a cloud provider and created a customized middleware to alleviate the security risks she saw in other systems. 
As a result, Chandler's tailor-made system is now the only one of its kind able to provide an advanced level of security against accidental data exposure.
Explore the Chandler Municipal Court
The Chandler Municipal Court is the Judicial Branch of Chandler city government and is also a part of the Arizona Judicial System. It serves the public and contributes to the quality of life in our community by fairly, impartially, and promptly administering justice in an effective, efficient and professional manner. Explore the Court through the City of Chandler