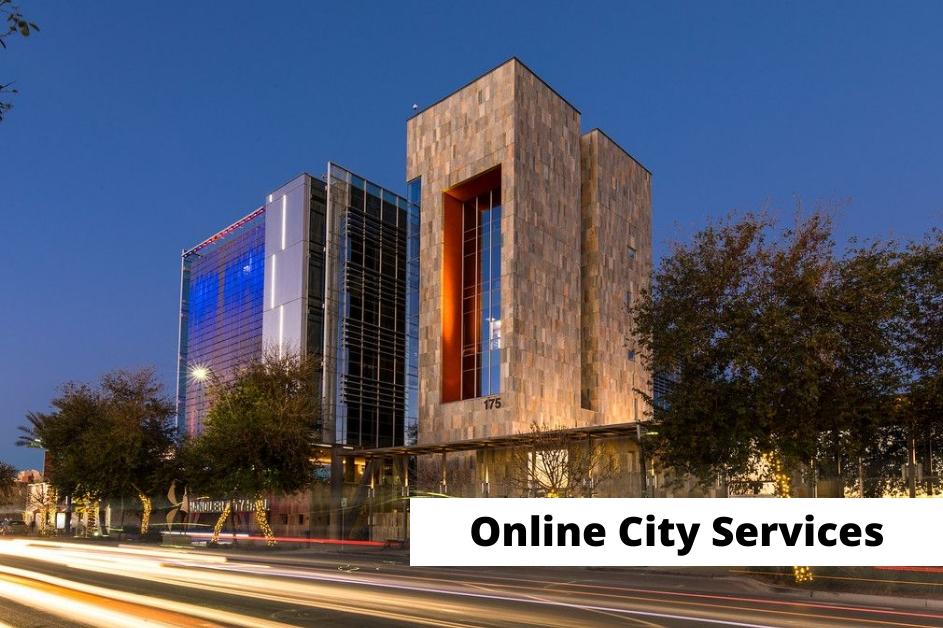 It is the responsibility of the City of Chandler to prioritize the health and safety of residents and employees as our community navigates the impact of COVID-19 (Coronavirus). The City is closely following the recommendations from the Maricopa County Department of Public Health, Arizona Department of Health Services, Centers for Disease Control and Prevention and World Health Organization to guide our actions and preparations.  
The City reminds residents of the online services and phone numbers available that can be used as an alternative to visiting a City site or facility at this time. This list may be updated as we work to compile additional resources.
If what you are looking for is not listed, view our City Phone Numbers and Email Listings to find more ways to contact the City of Chandler.
Online Essential Service Resources
For the first time in history, you can complete the U.S. Census online. To complete the survey digitally, visit 2020census.gov. If you need assistance in a language other than English, visit iCount2020.info for a complete list of phone numbers.
Respond to the U.S. Census by phone: 844-330-2020
 
Start a service request, provide a comment or ask a question to City staff via our online citizen contact form.
Contact the City of Chandler: 480-782-2000
 
The City's PublicStuff app is a resident communication channel to the City for repairs and safety hazards.
Contact the Utility Services Division: 480-782-2280
The online portal for requesting building permits, checking status and submitting payment. 
Chandler offers a free texting service for customers and contractors to schedule construction inspections and receive results via text messaging. Inspections also can be scheduled online at Development Permits.
Contact the Development Services Department: 480-782-3000
 
Use the link above to access information about submitting electronic payments for utility billing services. Here is a direct link to submit your utility bill online.
One-time pay services are available via Invoice Cloud for the following payment options:
This online form can be used to report a crime not in progress. If you want to report a crime in progress, immediately call 911. If you prefer to file your report over the phone or need to contact the Chandler Police Department for any other reason, please use the department's non-emergency number.
Contact Chandler Police Department Non-Emergency: 480-782-4130.
 
To avoid visiting the station in person, citizens may request a police report from the Chandler Police Department using an online form or over the phone.
Contact Chandler Police Department's Records Unit (available 24 hours): 480-782-4001
 
Through the Chandler Municipal Court's website, you can search for cases that have a disposition and look for upcoming court date information for pending cases on the calendar. You can also handle your case by phone or request an extension, continuance or payment plan online.
Contact Chandler Municipal Court: 480-782-4700
 
View the most requested applications, checklists and forms to meet both the City of Chandler and State Department of Revenue and Liquor Board requirements for tax and licensing purposes. 
Contact the Tax and License Division: 480-782-2299
 
Access the Online Applicant/Resident Portal, Customer Service Form, and Change Report Form. View and print other housing forms. The City of Chandler Public Housing Authority is administered by the Housing and Redevelopment Division, which oversees and manages Public Housing units, Housing Choice Voucher (Section 8) Program, Tenant Based Rental Assistance (TBRA), and the Affordable Housing Program. Residents that need to communicate with their Housing Specialist can do so online via the Online Customer Service Form. 
Contact the Housing Division: 480-782-3200
 
Submit a public records request or view links to frequently requested information.
Contact the City Clerk's Office: 480-782-2180
Non-Essential Service Resources
Apply to serve on a volunteer Board, Commission or Committee. If you are interested in serving on a board or commission, please check out the Citizen's Guide to review the board duties and requirements for membership.
Contact the City Clerk's Office: 480-782-2180
Chander Library eCard
The Chandler Public Library offers vast opportunities for online reading, learning and entertainment through the network of resources available through the Library's website with the use of your Chandler Public Library eCard (which can be signed up for online). Here are a few of the free resources available without leaving your home through the use of your Chandler Public Library eCard:
Online eBooks and Audio Books
Check out eBooks and audiobooks, including new releases and bestsellers from the Library's Cloud Library collections and online resources for free digital titles. 
Streaming Movies Through Kanopy
Kanopy has one of the largest and most unique collections of film on the planet, ranging from blockbuster movies, thought-provoking documentaries, indie and foreign films and must-see classics — with new films being added every week. Stream for free online using your Chandler Public Library card. 
MP3 Downloads 
With your current library card, you can download and keep up to five MP3 songs per week and listen from a computer or portable device.
Digital Magazines
Browse hundreds of popular magazines through Flipster, General OneFile and view access to select newspapers in Gale OneFile News. All you need is your library card and PIN to get started.
Mobile App
The library also has a mobile app available for download on iPhone/iOS  and Android. Simply enter you library card number and PIN for access to digital content such as e-books, e-audio, digital magazines, music, movies and cloudLibrary, tools for learning a new language, college preparation, writing resumes and preparing for interviews, along with access to reliable resources and early literacy programs.
Contact the Chandler Public Library: 480-782-2800
 
City of Chandler GIS Information Maps
These maps provide helpful information to Chandler residents and can be accessed on any computer or mobile device. 
Active Construction Projects 
View information and locations of private development and capital improvement construction projects currently active in Chandler.
Traffic Restrictions 
View all active traffic closures and restrictions within the City.
InfoMap 
InfoMap is the City's platform for sharing information about facilities, neighborhoods and community resources. Access locations and information on all City buildings, schools, parking and more throughout Chandler. 
Planning Interactive Map 
Access information on all active zoning cases as well as the different zoning category areas within the City. 
Pavement Cut Restrictions Map 
View all current and future pavement cut restrictions in the City of Chandler.
Registered Neighborhoods 
View all registered neighborhoods within the City and search by address.
Community Crime Map  
This community resource application powered by LexisNexis shows an up-to-date map of crime within the City of Chandler and is searchable by address.