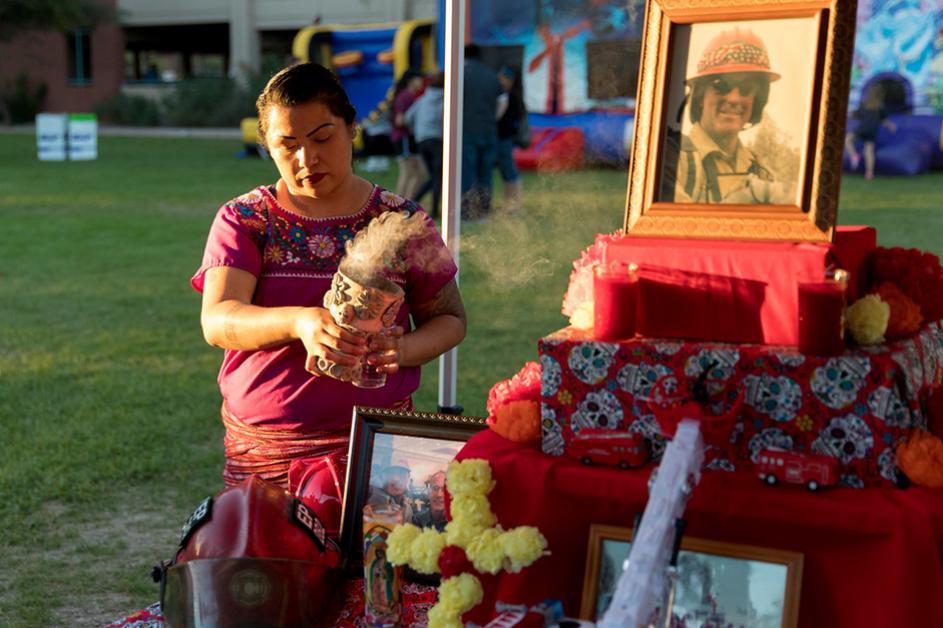 Día de los Muertos, or Day of The Dead, is a holiday celebrated by people of Mexican heritage around the world. The holiday is known for its colorful dress, food, artwork and music — elements that will be brought to life at Chandler's annual Día de los Muertos festival on Friday, Nov. 1. 
The festival is a celebration, particularly a celebration of life — a tradition Chandler's Police and Fire departments honored when designing their booths for this year's event. 
"The tradition of the holiday is that, when a picture of a deceased loved one is posted on an altar on the Day of the Dead, his or her spirit will return to visit," said Police Sergeant Jason McClimans. 
Keeping with the spirit of Día de los Muertos, visitors to the festival are invited to honor fallen police officers and firefighters by visiting the departments' unique altars, decorated with photos and mementos from members' time in service
The Police Department's booth will include photographs and articles of five employees that have both passed away, both on duty and off duty: Officer David Payne (2014), Officer Bryant Holmes (2014), Detective Carlos Ledesma (2010), Officer Robert Nielsen (2002), and Dispatcher Cathy Coppes (2018). 
At the Chandler Fire Department's booth, the team will honor Captain Mark Boulanger, who died in Sept. 2018. Boulanger died of lung cancer after 25 years of service with Chandler Fire. 
The altar will be dedicated to Captain Boulanger — known as "Bo" for short — with photos of him shared at the top of the altar. 
Sharing in the Celebration
While honoring fallen officers and firefighters is an important part of the booths, Chandler's public safety staff encourage community members to get to know the members who have died and share pictures and stories of their own loved ones who have passed on. 
Chandler Police Officers will be available at the department's booth to interact with the public, answer questions and encourage the public to participate in their booth. 
"We are involved with this event as a community outreach with citizens and to honor the men and women of the Chandler Police Department who have passed," Sgt. McClimans said. 
The Fire Department's booth will include firefighters, a fire engine, cardboard work made by Fire Cadets and a toy fire truck for kids to press, which will sound an alarm in honor of Bo. 
"The bottom of the altar will be dedicated to family and friends of firefighters who have passed, and we encourage the public to contribute their own mementos to our booth," said Fire Battalion Chief Jeff West.
See Chandler Police and Fire at Día de los Muertos
Join us in remembrance and celebration at the free festival, which will take place from 5 – 10 p.m. on Nov. 1 at the Downtown Stage, 178 E. Commonwealth Ave. The evening will close with a community procession to celebrate all of our passed loved ones.