Located in the Innovation and Technology Hub of the Southwest in Chandler, Arizona, Chandler Municipal Airport (CHD) just 18 miles southeast of Phoenix Sky Harbor International Airport and offers trouble-free access to anywhere in the region. An excellent business airport, it also is a base for charter, transport and sightseeing excursions, and is home to world-class training institutions. With more than 200,000 operations this year, it is among the nation's busiest general aviation airports.
CHD's location is well-situated for easy travel to southwestern U.S. markets and beyond. On the airport, Chandler Municipal offers access to air transportation services and facilities to house aviation-related business, which makes it an excellent choice for the growth of your company for both corporate aircraft owners and business activity.
Terminal Apron Construction Update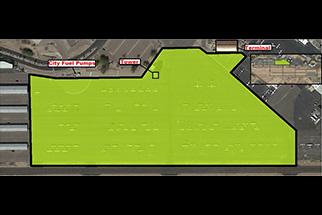 The Chandler Municipal Airport will start a pavement rehabilitation project on the Terminal Apron in January 2019.  The project will improve approximately 94,000 square yards of pavement generally located between the city-owned hangar complex and Taxiway M. 
The project area includes several rows of existing tie-downs, which will be removed and reinstalled over an estimated three month construction period.  To accommodate the work, all aircraft within the project area need to be temporarily relocated elsewhere on the Airport.  We will be reaching out to the affected tie-down tenants with specific temporary locations.
Construction is scheduled to start on January 21 and will be phased to maintain access and minimize disruptions to the on-Airport businesses and other facilities.