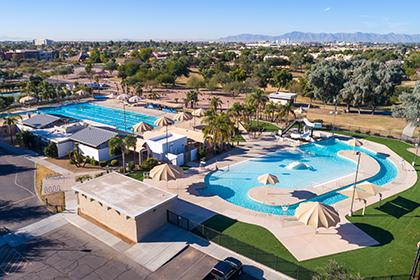 Arrowhead Pool located just in the Arrowhead Meadows neighborhood just west of Downtown Chandler. This facility features an L-shaped 50-meter pool with depths ranging from 3-12 ft; turf areas; shade ramadas and several 20' funbrellas; pool furniture; one 1-meter and one 3-meter diving board. The family play pool area features a zero-depth entry, water slide, toddler slide and current river.
Contact Us
Amenities
1-Meter Diving Board
Pool Furniture
Shade Ramadas
Toddler Slide
Water Slide
Pool
3-Meter Diving Board
Family Play Pool with Zero-Depth Entry
Lazy River
Hours
Public Swim
Advance Reservations are available for Chandler Residents. General Public may be admitted on a walk-up basis, as space permits.
June 6 - July 21
Monday-Friday
1 - 5 p.m.
Tuesday and Thursday
8 - 10 p.m.
Saturday
11 a.m. - 6 p.m.
Sunday
Noon - 6 p.m.
July 21-26
Saturday and Sunday
Noon - 5 p.m.
Aug. 1-2  |  8-9  |  15-16  |  22-23  |  29-30
Saturday and Sunday
Noon - 5 p.m.
Sept. 5-7 Labor Day Weekend
Saturday and Sunday
Noon - 5 p.m.
Limited Capacity:  137 guests
Aqua-Fit Classes
Taquata Shallow
Monday-Thursday 
6 - 6:50 p.m.
Class Limit:  9 participants
Visa, MasterCard, and American Express credit cards accepted for all fees at this location.
Children (2-17 years)...........$1
Adult (18-54 years)..............$2.25
Senior (55 years & older)....$1.25
Valid March to November; Chandler Residents Only
A Family Season Pass is a great way to spend your summer in Chandler at all six award-winning aquatic centers.
Family of 4...................................$112
Additional family members.........$15
Valid at all six award-winning aquatic centers during public swim hours and the adult lap swim program. Passes are sold increments of 5, 20 and 30.