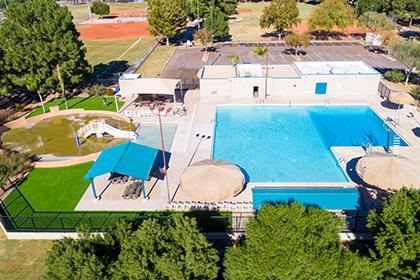 Folley Pool is the smallest swimming facility in Chandler located in Downtown Chandler adjacent to Folley Memorial Park. It features a 25-yard L-shaped pool with one 1-meter and one 3-meter diving board. The depth is only 3-4 feet except for the 12-foot diving well. The facility may lack in size but makes up for it by offering an exceptional learn-to-swim program.
Contact Us
Amenities
1-Meter Diving Board
3-Meter Diving Board
Gushers & Geysers
Shade Ramadas
Spray Ballard
Wading Pool with Beach Boat & Kiddie Slide
Water Playground
Visa, MasterCard, and American Express credit cards accepted for all fees at this location.
Children (2-17 years).............$.75
Adult (18-54 years)................$2
Senior (55 years & older)......$1
Valid March to November; Chandler Residents Only
A Family Season Pass is a great way to spend your summer in Chandler at all six award-winning aquatic centers.
Family of 4...................................$112
Additional family members......$15
Valid at all six award-winning aquatic centers during public swim hours and the adult lap swim program. Passes are sold in increments of 15 and 30.