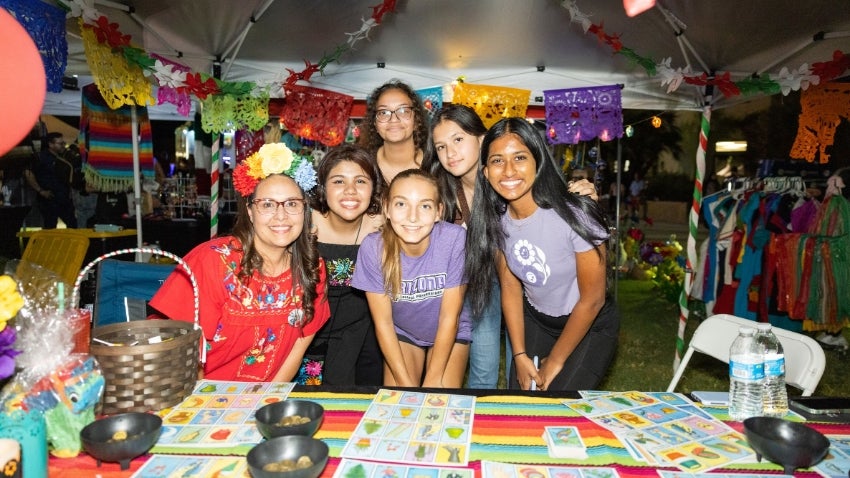 Chandler Contigo, translated from Spanish to "Chandler With You" is a month-long series of family, cultural and educational events that honor and celebrate National Hispanic Heritage Month. Take a look below, we'll celebrate all month long. Some activities have limited capacity, come early!
These programs are supported by the City of Chandler Diversity, Equity & Inclusion Division, Chandler Public Library, Chandler Center for the Arts, Vision Gallery and Chandler Museum.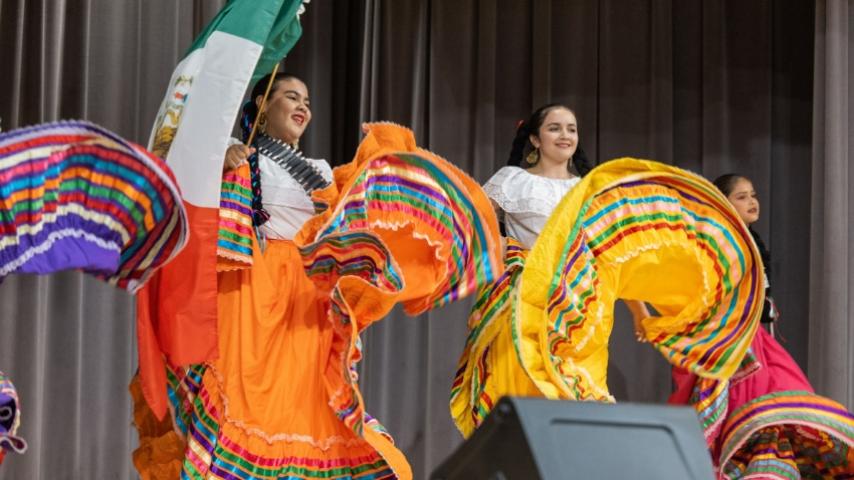 Kickoff
Sept. 16 | 10 a.m. to 2 p.m. | Downtown Library
Join us for the Kickoff Festival and enjoy strolling mariachis, family crafts, and face painting. Take a tour of the cultures of the Americas with interactive presentations, then meet local Lucha Libre masked wrestlers and learn some moves. Experience different forms of Latin dance from Salsa to Ballet Folklorico. Artists young and old can try out screen printing or register for a special art book workshop. Explore local Latinx voices and history through displays and a Chandler barrio storytelling presentation. Admission is free and everyone is welcome.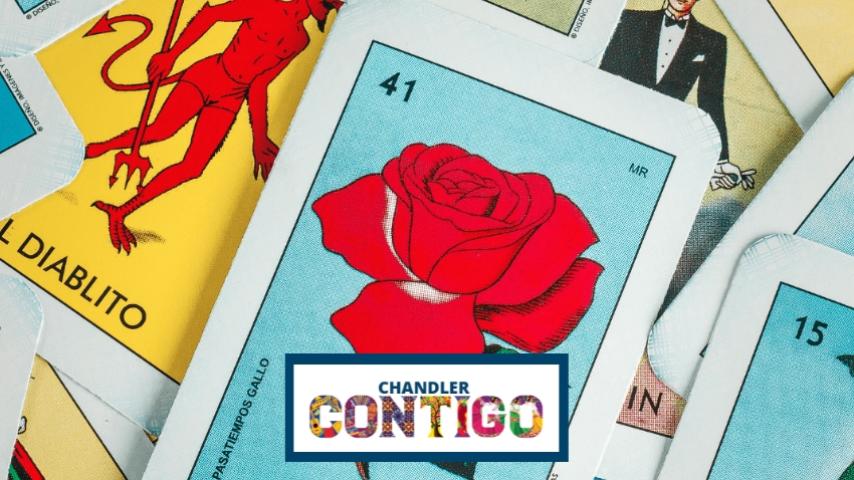 Family Lotería
Sept. 25 | 5-7 p.m. | Downtown Library
Help us celebrate National Hispanic Month with our spooky version of Loteria! We will be playing with cards inspired by the fall holidays.
Small prizes will be given to winners. All ages.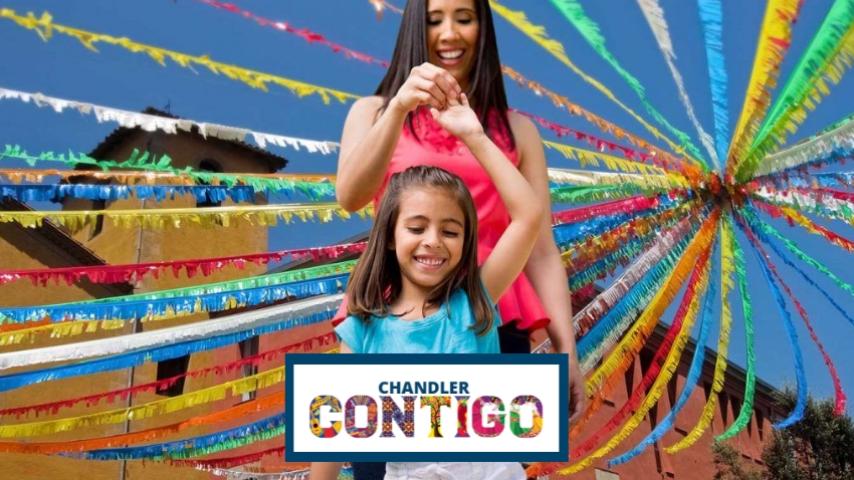 ¡Baila! Dance Party & Sing Along
Sept. 29 | 6-8 p.m. | Hamilton Library
Grab the kids and the grandparents for this after-hours event! We will learn some traditional dance moves, have a dance party, do some crafts, and have a sing-a-long.
A special guest from Encanto will be joining us for this special event! All ages.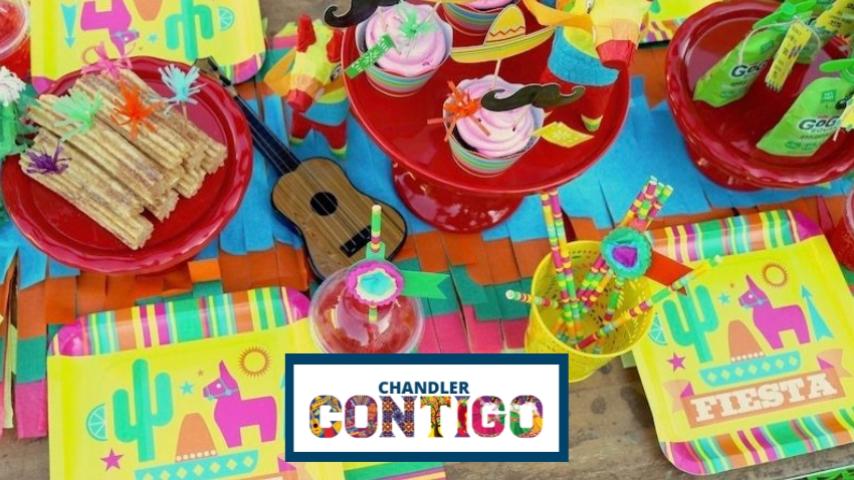 Sunset Fiesta
Oct. 7 | 10 a.m. to 12 p.m. | Sunset Library
Join us for a fiesta day in honor of celebrating Hispanic Heritage Month! There will be music, crafts, face painting and a photo booth station. Also, decorate sugar skulls with us! All ages.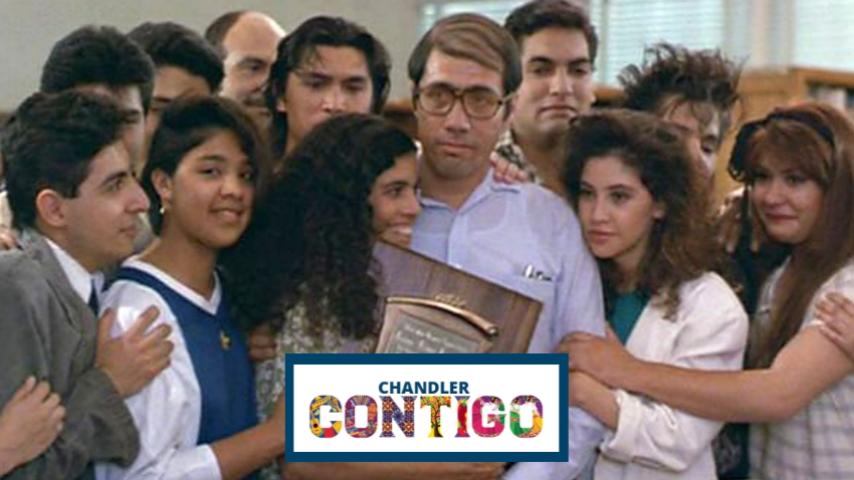 Stand & Deliver
Oct. 8 | Red Carpet Event: 3 p.m.
Screenings: 4 & 5 p.m.
LOOK Dine-In Cinema Chandler 
Join the Chandler community in celebrating Hispanic Heritage Month and the 35th Anniversary of the iconic Latino film, "Stand and Deliver".  Walk the red carpet and enjoy an exclusive movie screening followed by a panel of Latino film industry experts, cast and crew.
24th Annual Mariachi and Folklórico Festival
Oct. 7 | 7 p.m. | Chandler Center for the Arts
Celebrate Hispanic Heritage Month with a Chandler tradition. For 24 years, the Annual Mariachi and Folklórico Festival has created a music and dance experience rich and vibrant in the history of Mexico. World-class mariachi bands are accompanied by folklórico dancers from Ballet Folklórico Quetzalli-AZ.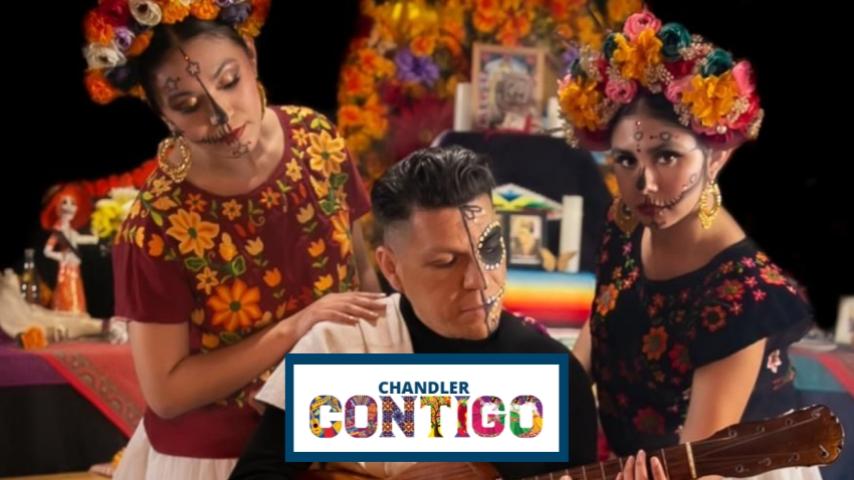 Hasta la Muerte
Oct. 20 | 7:30 p.m. | Chandler Center for the Arts
Travel to the past with traditional folk songs," an on-stage altar and songs of memory to honor the ancestors who have come before. Then move forward with modern music that celebrates life now and life after death. Throughout the production, mesmerizing folklórico dance and colorful sets accentuate the distinct vibrant sound that is Las Cafeteras.
Creations from Within, Vol. 2
Aug. 12 - Oct . 21 | Chandler Center for the Arts
Taking inspiration from the solo albums of hip-hop artists, Edgar Fernandez uses Creations from Within, Vol. 2 as an opportunity to showcase his commitment to his craft and display ten years of artistic growth since his first solo exhibition in 2013.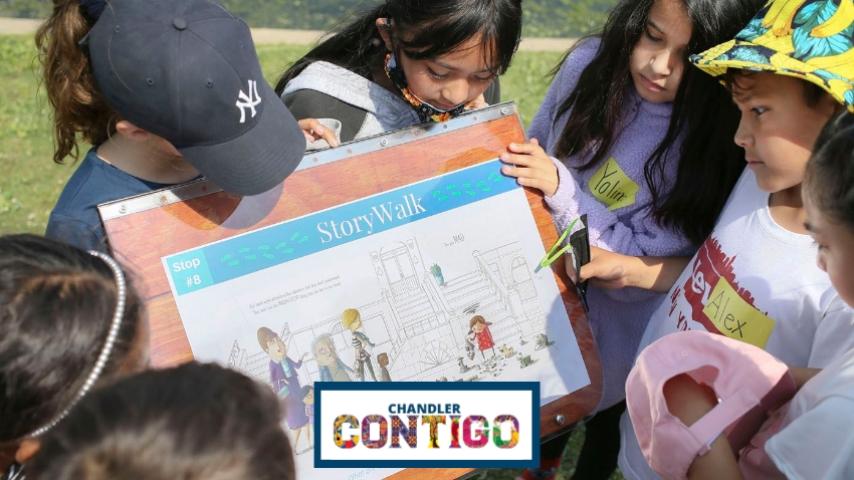 StoryWalk®
Sept. 1–30 | Park Hours
Take a walk, read a book and have an adventure! As part of the Chandler Contigo celebration, bring the kids to any of the three parks listed to explore a picture book display for an interactive StoryWalk experience! This fun experience brings together the joy of reading, the importance of reading together, and the benefits of outdoor, physical activity.
StoryWalk® - Call Me Tree | Sunset Park
StoryWalk® - Bright Star | Desert Breeze Park
StoryWalk® - My Voice is a Trumpet | San Marcos Park
Hands-on Activities
Learn all the ways you can celebrate Hispanic Heritage Month with the Chandler Public Library.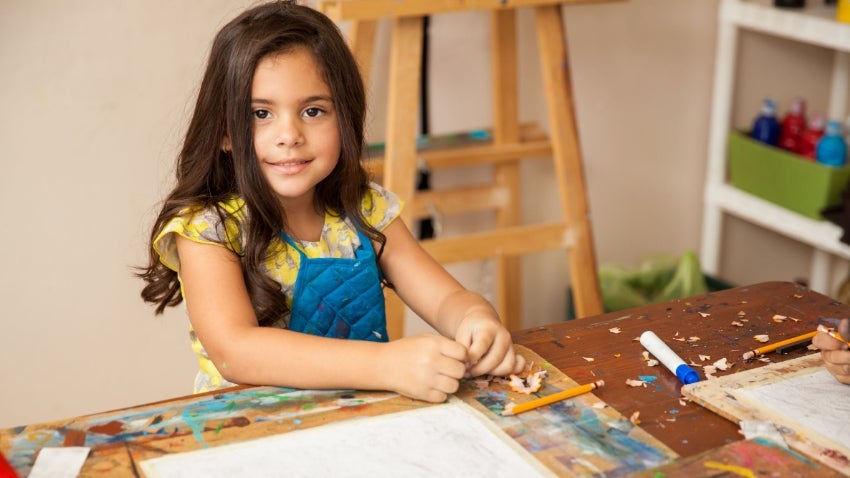 Get Crafty
Grab & Go
Sept. 1 | 9 a.m. to 8 p.m. | All four libraries
Stop by any of our four locations to pick up a Grab and Go Contigo Activity Kit.
Hispanic Heritage Craft Day
Sept. 15 | 11 a.m. to 12 p.m. | Basha Library
Join us as we celebrate Hispanic Heritage Month at Basha Library by creating Contigo-themed crafts! The library will provide the supplies and instruction, while you provide your creative touch! All ages.
Make Your Own Maraca!
Sept. 20 | 10:30-11:30 a.m. | Sunset Library
Celebrate Hispanic Heritage Month with us by decorating and making your own maraca! Supplies will be provided. While supplies last. All ages.
Dia de Los Muertos Inspired Memory Boxes
Oct. 11 | 6-7:30 p.m. | Downtown Library
Celebrate Hispanic Heritage Month by making a Dia de los Muertos-inspired memory box. We'll provide boxes, flameless tealight candles, and craft materials to help decorate the box. Please bring a photo(s) and any small personal items you may want to include for the person you are honoring. For ages 18 and older.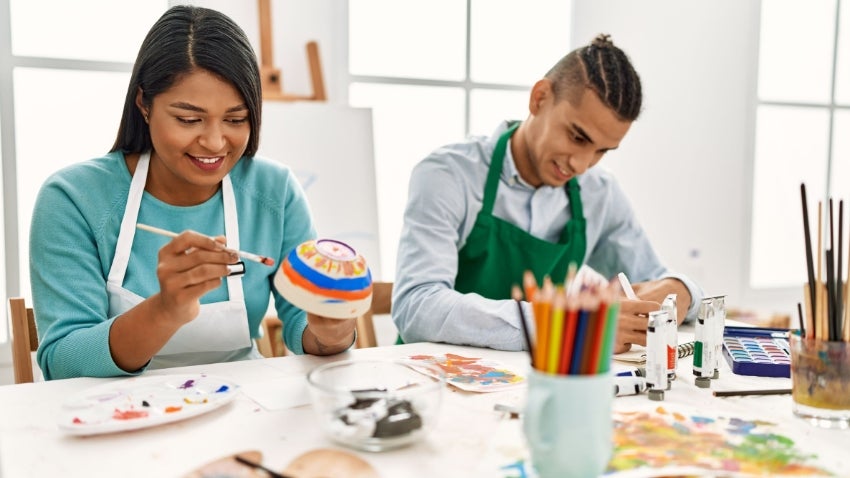 Amate Painting
Oct. 5 | 2-3 p.m. | Hamilton Library
Join us at the Hamilton Library to learn about Mexican folk art. We'll explore the traditional art of amate bark painting and create our own unique piece of folk art. Supplies are provided. For ages 6 – 12. Registration required.
Contigo Paint Night
Oct. 13 | 6-7 p.m. | Basha Library
Bring a friend and paint a Hispanic heritage-themed masterpiece. For ages 18 and older.
Let's Eat
Lil' Chefs
Sept. 18 | 4:30-5:30 p.m. | Hamilton Library
Cooking is fun at any age! Our program is designed to allow 6-9-year-olds to engage in fun and interactive recipes. Your young chef will prepare a delicious Mexican dish from start to finish. For ages 6-9 years old. Registration is required.
Teen Salsa Taste Test
Sept. 26 | 2:15-4 p.m. | Basha Library
Join the fiesta and vote for the most mouth-watering salsa at our Contigo celebration! Savor the flavor with chips and salsa on us. Choose from Arizona's finest salsa makers and see who reigns supreme. With games to play and prizes to win, it's sure to be a spicy good time! For ages 13-17.
Museum Exhibits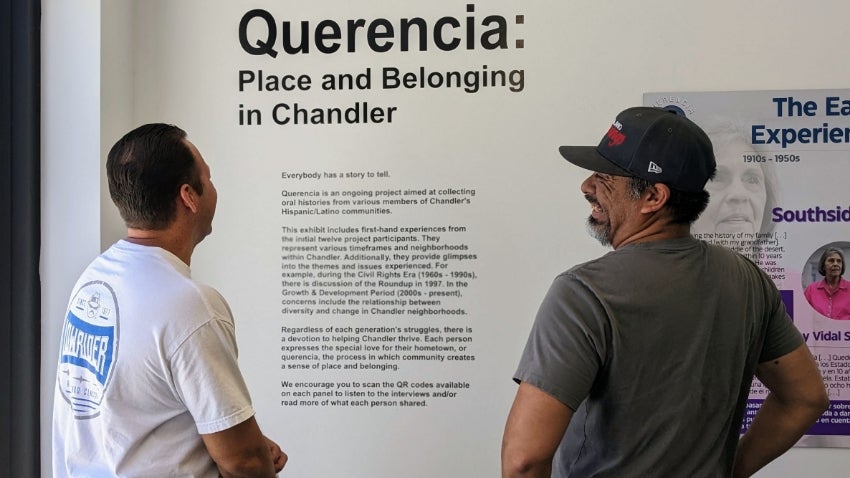 Querencia: Place and Belonging in Chandler
Aug. 15 - Oct. 15, 2023 | Museum Hours
Chandler Museum
Reception: Thursday, Sept. 21
This community-focused exhibition presents the oral histories of long-term Hispanic/Latino residents in Chandler's historic barrios alongside recent migrant communities. Querencia refers to and explores the process in which community creates a sense of place and belonging. A variety of voices share experiences from the city's founding days to its current growth and development. Residents speak about struggle and segregation but also love for their neighborhood—founded on community and connection.
Querencia is presented in collaboration with Dr. Rafael Martínez, Assistant Professor in Southwest Borderlands at Arizona State University. This exhibition is supported by a grant from the City of Chandler Diversity, Equity & Inclusion Division with additional support from the Chandler Museum Foundation.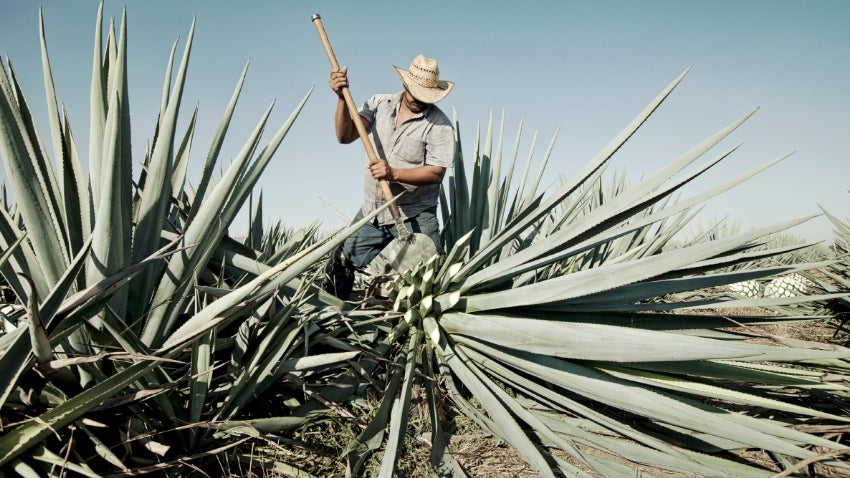 Aliento a Tequila
Sept. 1- Oct. 22, 2023 | Museum Hours
Chandler Museum
Aliento a Tequila (or The Spirit of Tequila) explores and celebrates the landscape, culture, and traditions that gave birth to tequila, Mexico's mestizo national drink. This series of photographs by Joel Salcido includes the original distilleries that literally founded the industry, as well as several artisanal tequilas committed to the ancestral ways of tequila-making, from harvest to bottle.
A program of ExhibitsUSA, a national division of the Mid-America Arts Alliance, and The National Endowment for the Arts
Image: Joel Salcido, Don Julio: Jimador, 2012; archival pigment ink photograph printed on German Hahnemühle 100% rag paper; 16 x 24 inches, Courtesy of the artist.