Sept. 5, 2018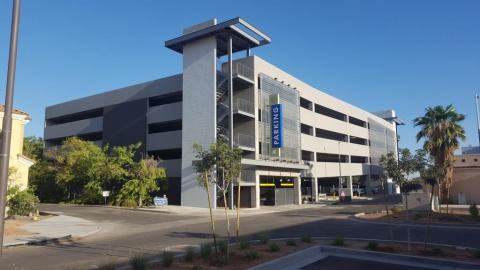 A 350-stall parking garage is opening this week in Downtown Chandler as part of the $25 million Overstreet development.  The five story garage was constructed by LGE Design Build, developers of Overstreet, a 77,000 square-foot project that will include a Flix Brewhouse cinema, plus space for restaurants, retail and offices.
"As we bring exciting new businesses like Flix Brewhouse to Overstreet and the downtown Chandler neighborhood, we expect to draw a crowd," said Wayne Bell, president of LGE Design Build. "We saw it as our responsibility to build a garage that would cater to Overstreet customers while also helping eliminate surface street congestion."
The Overstreet parking garage is free 24 hours a day and will serve daily shoppers, diners and moviegoers. The City will dedicate the garage and kick-off a free downtown shuttle service called the "Wave" at a ribbon cutting ceremony at 5 p.m., Thursday, Sept. 6. The ceremony will be held atop the garage located on the northwest corner of Buffalo and Oregon streets. The public is invited to attend.
"This is Chandler's first Downtown parking garage located on the west side of Arizona Avenue," said Chandler Mayor Jay Tibshraeny. "These additional spaces will continue Chandler's tradition of providing free parking."
The new shuttle service will pick people up from the new garage and three others in the area and take them to destinations in and around the Downtown square. It will operate Thursday, Friday and Saturday from 5-9 p.m. The vehicles can be hailed by calling 602-730-5153.
The impetus behind the shuttle service is a wave of development that is eliminating more than 200 surface parking spaces on vacant property located south of Chandler's historic square. The five-acre parcel across from City Hall is slated for hotel, office and commercial buildings.