April 20, 2022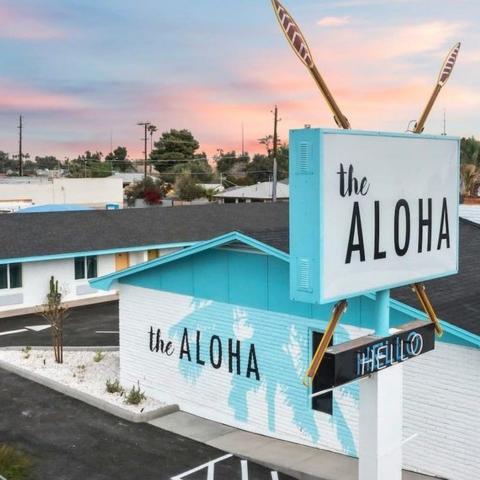 From Outdated Motel to Chic Roadside Stay for the Modern Traveler
CHANDLER, Ariz. (April 20, 2022) — Say hello to the latest redevelopment project in Chandler. The Aloha, a classic Arizona motel that had seen better days, has now been transformed into a 26-room boutique motel for the modern traveler.  Located at 445 N. Arizona Ave., the motel is perfectly situated for visitors wanting to explore downtown Chandler and the surrounding area.
The project started in 2019 when investors John Hylton and Bill Simmonds first viewed the property. They looked past The Aloha's aged exterior and recognized an understated icon of the post war car culture, a symbol of a golden age when the traveling middle class used motor inns as they made their way across the country.
Originally constructed in 1950 on a busy thoroughfare, The Aloha had a simple design; a traditional u-shaped motor court with rooms surrounding a swimming pool and office with manager's quarters. While the structure of the motel was still solid in 2019, major renovations were in order to bring it back to life.
"We knew that redeveloping The Aloha would be a challenge, but we saw potential," said John Hylton. "It had a funky Hawaiian vibe that we wanted to keep, while creating an option for travelers looking for something more than a typical desert motel. We envisioned a fun boutique destination, convenient to all the amenities that downtown Chandler has to offer". 
J-Squared Construction, a local design-build company, was hired to perform the redevelopment work. Design firm Goodlooks was hired to preserve The Aloha's mid-century charm while updating it with a light and welcoming vibe. The property now boasts a multi-colored façade reminiscent of the islands and a new mural that emphasizes the double meaning of the word aloha - "hello" and "goodbye". These words, painted largely on the building as you drive by, create a dialogue with visitors and the community.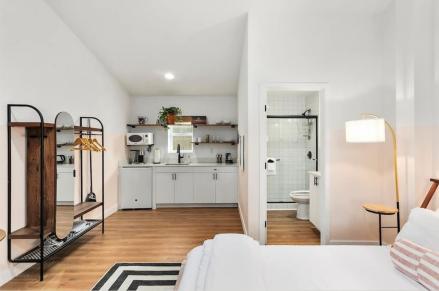 Inside the rooms, there is genuine retro beach energy. Visitors will feel transported in time looking at vintage Hawaiian photos from local collector Douglas Abrahamson and local artist Randy Slack's photography of his beloved VW bus "Myrtle".
The Aloha is not just a classic motel experience though. The project was designed with modern functionality in mind, leveraging technology to streamline processes and optimize guest experience. Aardvark Partners has been hired to manage operations.
"We are excited to see The Aloha reopen and give visitors to our community a unique place to stay," said Chandler Mayor Kevin Hartke. "This is a great example of thoughtful redevelopment, preserving the best aspects of a classic Chandler property while giving it new life."
In addition to creating an intriguing place for visitors and travelers to stay as they explore Chandler and the surrounding area, investors John Hylton and Bill Simmonds believe redevelopment of The Aloha will make the neighborhood better for nearby residents. The public is invited to attend a grand opening ceremony at the property on Saturday, May 7, from 4-8 p.m. as The Aloha looks forward to welcoming its first guests.
To learn more about the history of The Aloha or to book your stay, visit Aloha Arizona.

About City of Chandler, Arizona
Chandler, Arizona has built a reputation as a Community of Innovation. Life in Chandler goes beyond a thriving and dynamic business community with progressive entrepreneurship. Known for its rich diversity, the City offers an outstanding quality of life for all generations with great schools and recreational opportunities. Chandler has grown to become the state's fourth largest City with a population of more than 282,000. Chandler has been named one of the nation's Best Places to Find a Job and Best Cities for Women in Tech. The City also is one of the safest communities in the nation and boasts AAA bond ratings from all three national rating agencies, one of only 40 communities to achieve this distinction. For more information, visit the City website, or connect with the City on social media.
 
Media contacts:
John Hylton
Investor/Owner
480-335-7955
Stephanie Romero
City of Chandler, Public Information Officer
480-782-2231