Dec. 16, 2019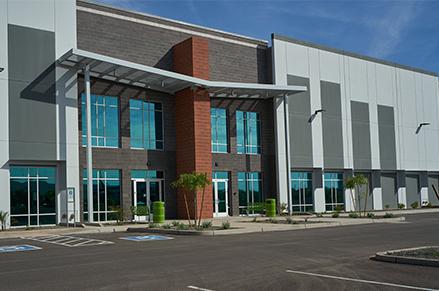 ArmorWorks has signed a 70,000 square foot lease in Chandler at the recently completed Lotus Project, which is located near the northwest corner of Kyrene Road and Loop 202. The company will consolidate their headquarters, including Engineering, R&D and Admin departments, plus certain manufacturing operations to the new facility.

ArmorWorks is a defense and security company that designs and manufactures various types of protective technologies. The company was founded more than 20 years ago and this expansion will increase their headcount from 125 employees to 210 employees.

"The City of Chandler is thrilled that ArmorWorks chose to expand in West Chandler, our second-largest employment corridor," stated Chandler Mayor Kevin Hartke. "We would also like to thank Conor Commercial and all of the developers that continue to drive economic growth in Chandler."

"We have enjoyed our experience in Chandler over many years and the City's Economic Development team provided timely assistance when we came to them with this project," stated ArmorWorks CEO Brad Wiggins. "ArmorWorks looks forward to continuing our growth in this dynamic community."

"We are thrilled that ArmorWorks selected Lotus Project for its new corporate headquarters and additional manufacturing operation," said Sven Tustin, Senior Vice President of Conor Commercial Real Estate, Developer of Lotus Project. "ArmorWorks is a perfect example of the type of business for which Lotus Project was built, accommodating advanced manufacturing requirements with state-of-the-art design."

The new facility will open in phases, with operations commencing in March 2020.

About ArmorWorks:
A progressive defense and security company specializing in innovative survivability and protective technologies.  ArmorWorks designs, develops, tests, and produces a wide array of High Security Doors, Barriers and Vaults, Blast Attenuating Military Seating, complete Armored Vehicles and Vehicular Protective Armor, and structures that protect people, high-value assets and sensitive materials. ArmorWorks' patented products range from military seating systems to blast, ballistic and forced-entry resistant barrier systems to impenetrable vehicle armor and 3D camouflage systems.
About the City of Chandler:
Chandler, Ariz. has built a reputation as a Community of Innovation. Life in Chandler goes beyond a thriving and dynamic business community with progressive entrepreneurship. Known for its rich diversity, the City offers an outstanding quality of life for all generations with great schools and recreational opportunities. Chandler has grown to become the state's fourth largest City with a population of more than 262,000. Chandler has been named one of the nation's Best Places to Find a Job and Best Cities for Women in Tech. The City also is one of the safest communities in the nation and boasts AAA bond ratings from all three national rating agencies, one of only 40 communities to achieve this distinction. For more information, visit the City website, or connect with the City on social media.
About Conor Commercial:
Conor Commercial Real Estate is the integrated real estate development firm of The McShane Companies headquartered in suburban Chicago, Illinois with regional offices located in Dallas, Houston, Phoenix and Irvine. Conor Commercial Real Estate is active on a local, regional and national basis in the development of master-planned industrial and office parks, medical office developments, multi-family properties and build-to-suit projects for lease or purchase.
Media contacts:        
Kevin Mulrenin
ArmorWorks, Chief Marketing Officer
586-943-9907

Stephanie Romero   
City of Chandler, Public Information Officer
480-782-2231