June 28, 2023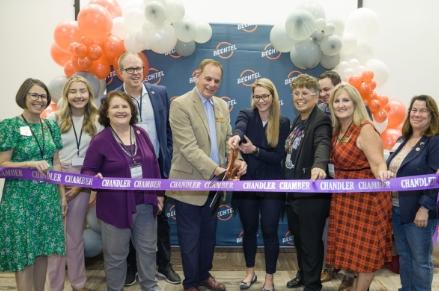 Thriving business and tech landscape to deepen Bechtel's relationships with customers in semiconductor and battery markets
CHANDLER, Ariz. – Bechtel announced today that it will establish a new office in Chandler, Arizona. The office will serve as an important location for Bechtel's Manufacturing & Technology global business unit, which serves customers in the semiconductor, batteries, and battery materials markets.
Bechtel marked the opening of the office at an event on June 27, 2023, with business partners and government officials.
The 8,000 square foot office is located at 3133 W. Frye Road on Price Corridor and includes space for employees in disciplines such as engineering, procurement, project controls, and construction management.
"The thriving business and high-tech landscape in the Metro Phoenix area allows Bechtel to attract top talent as we design and build projects for our customers," said Catherine Hunt Ryan, president of Bechtel's Manufacturing & Technology global business unit. "By focusing our technical expertise in Chandler, Bechtel will deepen our collaboration and dedication with partners engaged in new capital projects in the semiconductor, batteries, and battery materials markets."
"Chandler has built a reputation over several decades as a manufacturing and technology hub, and we are thrilled to welcome Bechtel to our city," said Chandler Mayor Kevin Hartke. "Bechtel is one of the largest construction and engineering companies in the United States. This beautiful new office will support the exciting economic development growth happening throughout our community and the region."  
Bechtel will maintain its existing U.S. and international office locations, including an office in Glendale, Arizona.

About Bechtel
Bechtel is a trusted engineering, construction and project management partner to industry and government. Differentiated by the quality of our people and our relentless drive to deliver the most successful outcomes, we align our capabilities to our customers' objectives to create a lasting positive impact. Since 1898, we have helped customers complete more than 25,000 projects in 160 countries on all seven continents that have created jobs, grown economies, improved the resiliency of the world's infrastructure, increased access to energy, resources, and vital services, and made the world a safer, cleaner place. 
Bechtel serves the Energy; Infrastructure; Manufacturing & Technology; Mining & Metals; and Nuclear, Security & Environmental markets. Our services span from initial planning and investment, through start-up and operations. 
About the City of Chandler
Chandler, Arizona has built a reputation as a Community of Innovation. Life in Chandler goes beyond a thriving and dynamic business community with progressive entrepreneurship. Known for its rich diversity, the City offers an outstanding quality of life for all generations with great schools and recreational opportunities. Chandler has grown to become the state's fourth largest City with a population of more than 285,000. Chandler has been named one of the nation's Best Places to Find a Job and Best Cities for Women in Tech. The City also is one of the safest communities in the nation and boasts AAA bond ratings from all three national rating agencies, one of only 40 communities to achieve this distinction. For more information, visit the City website, or connect with Chandler on social media.

Media contacts:
Brad Bucher
Bechtel, Communications Lead, Manufacturing & Technology
Stephanie Romero
City of Chandler, Public Information Officer
480-782-2231