Oct. 28, 2022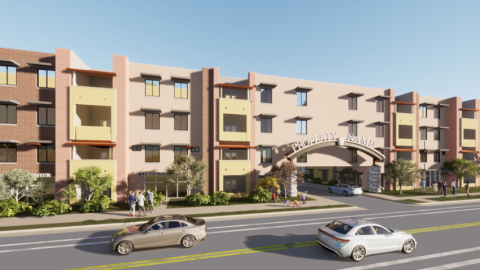 CHANDLER, Ariz. – During the Oct. 27 Chandler City Council Meeting, the Chandler City Council approved a development agreement with Gorman and Company, LLC, to co-develop Villas on McQueen, a five-acre site located at the southeast corner of McQueen Road and Chandler Boulevard.

The project will be a newly constructed family and senior multifamily housing site with approximately 157 housing units that will include a mixture of sizes from one- to five-bedrooms. The project also will include a multigenerational community space and park area. Seniors, persons with disabilities and veterans will be given priority to reside at this new housing site. There are 22 senior residents currently housed that will be transitioned to the new site once it's completed, along with 28 additional seniors.

Funding for Villas on McQueen will be provided through multiple state and federal programs. No funds from the City's General Fund will be used for this project. The site is expected to be completed in early 2025.

This past July, the Chandler City Council passed a resolution authorizing staff to explore a public-private partnership known as Rental Assistance Demonstration (RAD) program with the U.S. Department of Housing and Urban Development (HUD). The RAD program and other HUD repositioning programs offer Public Housing Authorities (like Chandler) the ability to reposition their public housing assets by creating public-private partnerships to access funding to improve properties and build at other locations.

With this approved development agreement with Gorman and Company, Chandler is one step closer to its goal of repositioning its current public housing stock, modernizing its aging facilities, and creating much needed affordable housing options for families and seniors.

Gorman and Company has a successful track record of co-development projects in the Phoenix Metro Area and across the country. In addition, the City will continue to work closely with Gorman and Company throughout the buildout process while ensuring the maintenance of these properties is held to high standards.

Media contact:       
Stephanie Romero
City of Chandler, Public Information Officer
480-782-2231