Oct. 27, 2020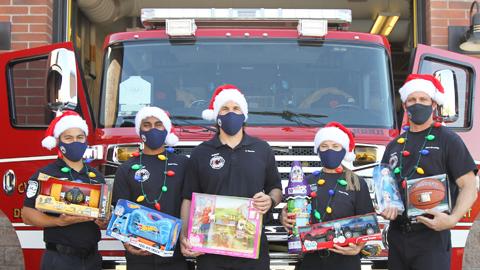 The Chandler Fire Department is once again collecting toys to help brighten the holiday season for Chandler children who might otherwise go without this year. This annual toy drive will be held at Chandler Fashion Center, with a few exciting changes made this year to help promote a safe environment for everyone.
The Chandler Fire Department Toy Drive will be from 2-8 p.m., Saturday, Dec. 5, at Chandler Fashion Center, 3111 W. Chandler Blvd. The toy collection point will be in the parking lot west of the south facing entry point of Chandler Fashion Center. The highlight of the event will be the Enchanted Fire Village, a special holiday wonderland built by Chandler firefighters with decorated fire trucks.
Anyone who donates a new, unwrapped toy during the Holiday Toy Drive will receive admission into the Enchanted Fire Village. An adult must accompany all children through the village.
Once the donated toys are collected, Chandler firefighters and volunteers will help deliver them to the Chandler CARE Center, where they will be distributed at a designated event to families that have been identified through the staff at each Chandler Unified School District elementary school.
"Our annual toy drive has been a tremendous success over the years. We get to witness the generosity of so many Chandler families and we, in turn, are able to fulfill the dreams of a lot of area kids," said Chandler Fire Chief Tom Dwiggins. "This event is just another way that our fire department personnel get to partner with the people we serve and together make a difference for those in need."
For those who cannot attend the Dec. 5 event at the mall, toy or gift card donations may be dropped off or mailed to the to the Chandler Fire Administration Headquarters at 151 E. Boston St., starting Nov. 9 through Dec. 11. Toys can also be taken to any Chandler fire station, however, gift cards will only be accepted at Fire headquarters (CFDHQ).
If you prefer a contactless donation method, items may be shipped to CFDHQ or purchased via the "Chandler Fire Toy Drive" wishlist on Amazon. Please bring a copy of your receipt for admission to the Enchanted Fire Village on Dec. 5.
For more information about the Chandler Fire Department, visit Chandler Fire or call 480-782-2120.