Nov. 8, 2023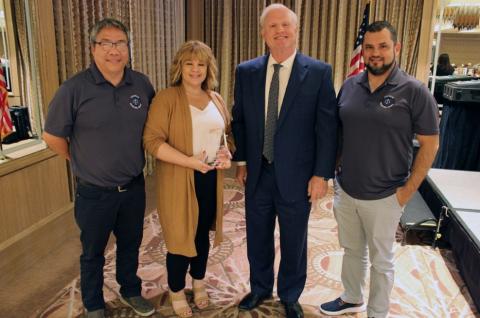 CHANDLER, Ariz. – Each year, the Arizona Supreme Court and Administrative Office of the Courts honor individuals, teams or projects that have made extraordinary contributions to the administration of justice within Arizona. These honorees exemplify one or more of the Court's five goals of its Strategic Agenda. The awards are presented in October during the state's Court Leadership Conference. 
This year, Chandler Municipal Court was honored with a Strategic Agenda Award in the Advancing Technology category for its new online customer chat program. 
Instead of calling or coming to the court in person, the general public can now use a smartphone, tablet or desktop computer to get their questions answered via chat with a live court clerk. 
This feature was implemented to further the Court's commitment to accessibility.  "Chandler is known as a Community of Innovation, and providing access to justice through the use of technology is important to city leadership and our court staff," said Presiding Magistrate Alicia Skupin. "I'm grateful for our team's efforts to make these enhancements available to our residents and customers."
To initiate an online chat, users may click the "live chat" icon on the bottom right of the court's website at Chandler Municipal Court. For questions that are related to a specific case, it's important to have your case number handy. All chats are confidential and are not saved as an official record. The chat feature is available during working hours of the court from 8 a.m. to 5 p.m. Monday-Friday. 
For more information about the court's services, visit Chandler Municipal Court.
Pictured from left to right: Chandler Municipal Court Administrator Ken Kung, Deputy Court Administrator Regan Tiller, Arizona Supreme Court Chief Justice Robert Brutinel and Court Services Supervisor Jairo Garcia
Media contact:
Stephanie Romero
City of Chandler, Public Information Officer
480-782-2231