July 25, 2023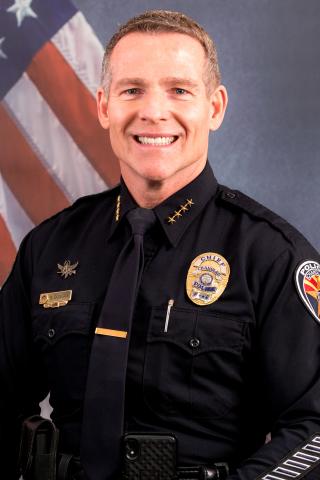 CHANDLER, Ariz. – Chandler Police Chief Sean Duggan has announced plans to retire in January 2024, concluding a 37-year career in law enforcement.
"Chief Duggan has created a culture of service, engagement and trust that has resulted in outstanding community support and historically low levels of serious crime in Chandler," said City Manager Josh Wright. "I appreciate his leadership of the Chandler Police Department, employing practices that enabled Chandler to remain one of the nation's safest cities."
Duggan has served as Chandler's police chief since January 2014 and is the most senior police chief among Valley cities. He served the City of Scottsdale for 27 years before leading the Chandler Police Department. Since 2021, Duggan has served as the Vice President at Large for the International Association of the Chiefs of Police and currently serves on their Executive Board.
"I am immensely proud that even amid a rapidly changing landscape, the Chandler Police Department is thriving," said Chief Duggan. "Our culture of earning support and trust by serving our community in a fair and equitable manner is the cornerstone of our system of policing. The future of our department is bright with talented people dedicated to upholding the highest standards of performance, while meeting challenges of 21st century policing."
The Chandler Police Department is recognized regionally and nationally as a modern, transparent law enforcement agency, continuously maintaining accreditation status for excellence in policing since 1996.
In the months ahead, Chandler will conduct a national recruitment to replace Duggan. Per the Chandler City Charter approved by voters, the police chief is a position hired by the city manager.