May 1, 2023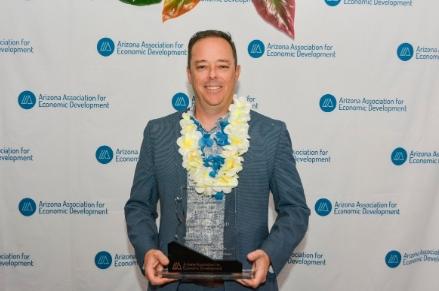 CHANDLER, Ariz. – The Arizona Association for Economic Development (AAED) presented its annual Economic Development Distinguished by Excellence (EDDE) Awards during its Spring Conference held in Tucson. Micah Miranda, Chandler Economic Development Director, was named Economic Developer of the Year in the category of Large Community. 
The prestigious EDDE Awards honor individuals and organizations that have made significant contributions to the advancement of AAED and to economic growth within their communities as well as on a regional and state level. Honorees were selected from nominations submitted by AAED members.
"I congratulate Micah Miranda and his Economic Development team for their significant contributions to the advancement of economic growth within Chandler and the Greater Phoenix region," said Chandler Mayor Kevin Hartke. "We're proud of his and his team's direct impact on our vibrant economy and congratulate him on this well-deserved honor."
Miranda has led his team of seven to several major economic development successes this past year including:
Supported more than 27 companies in locating, expanding and staying in Chandler. Combined, these projects are expected to provide 4,219 Chandler-based jobs in the coming years, absorb more than 1.8 million square feet of space, and make a capital investment of more than $330 million. Noteworthy projects include VIAVI, EMD Electronics, GM Financial Services, Yield Engineering Systems, Edwards Vacuum and Stryker.

Increased opportunities for higher education in Chandler. Last year, his team led the execution of an intergovernmental agreement with the University of Arizona to support its relocation from the Chandler Community Center to a larger space in Downtown Chandler. The 12,000-square-foot facility will support the university through its next phase of growth in Chandler. In addition, Grand Canyon University recently announced the expansion of its nursing program in West Chandler to help address the nationwide nursing shortage.

Launched branding initiatives in Chandler employment corridors

 

to add to their sense of place. Brands for Uptown Chandler and West Chandler have been established – with the Airpark Area currently under development. 
Miranda has served as the City of Chandler's Economic Development Director since 2014. He is a respected leader within Arizona's economic development community and has 20 years of experience in municipal and state government organizations. He's also an active member of the Arizona Association for Economic Development and a Certified Economic Developer through the International Economic Development Council. He is passionate about advancing the profession and is often asked to participate in leadership groups on key economic development issues. Last year, Miranda also was honored with the 2022 Advocacy Award by the University of Arizona Eller College of Management.
For more information about the City of Chandler's Economic Development Division and its services, or to initiate a project, visit Chandler Economic Development.

Media contact:          
Stephanie Romero   
City of Chandler, Public Information Officer
480-782-2231