Nov. 16, 2020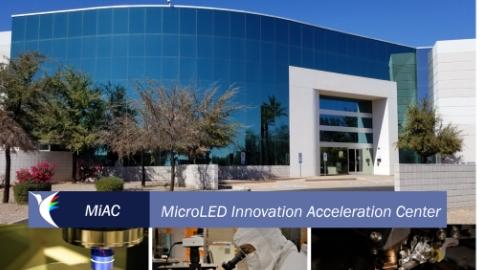 MiAC (microLED Innovation Acceleration Center) is the first industry known fab in the world dedicated to accelerate the time-to-market of sub 5 µm pixel monolithically integrated microLED displays to meet the rising demand for mass market AR/MR/VR & smart wearable devices.

The facility will serve as a hub where semiconductor industry experts come together in one workspace to deliver innovative process solutions to accelerate microLED from prototypes to products.
CHANDLER, Ariz. – Compound Photonics US Corporation (CP, also known as CP Display), a leader in compact high performance microdisplay solutions for Augmented and Mixed Reality (AR/MR), today announced its opening of MiAC (MicroLED Innovation Acceleration Center) in Chandler, Arizona. It will be the first industry known fab in the world dedicated to accelerate the time-to-market of sub 5 µm pixel monolithically integrated microLED displays to meet the rising demand for mass market AR/MR and smart wearable devices. 
"Companies like Compound Photonics are strengthening Arizona's reputation as the best place in the country to develop cutting-edge technologies," Arizona Governor Doug Ducey commented. "Arizona is proud to be chosen as the home of this state-of-the-art facility and we congratulate CP on their expansion."
"Arizona's advanced manufacturing industry continues to grow rapidly thanks to investments from innovators like Compound Photonics," said Arizona Commerce Authority President & CEO Sandra Watson. "Skilled tech talent, a strong supply chain, and the best pro-innovation environment in the nation continue to make our state the location of choice for next-gen projects like the MiAC fab."
"It is very exciting to see companies in Chandler like Compound Photonics pushing the frontiers of augmented and mixed reality," states Chandler Mayor Kevin Hartke. "We are delighted that CP is bringing more global resources to our city and contributing towards Chandler's high-tech job growth." 
"Microdisplay has been a critical component that determines form factor, size, power consumption and optical performance of mainstream AR glasses. CP has been in the forefront of delivering a cutting edge of sub 3 micron pixel display drive technology & platform with a track record of bringing production-worthy products to market," added Richard Jackson, CP's Co-CEO. "By aligning with our partners' expertise, equipment and resources at MiAC, together we will accelerate microLED process advancement to be ready to scale for commercialization." 
With over $20 million investment since 2018, the best-in-class MiAC will facilitate a strong collaboration among CP and its industry partners in one high-tech workspace. The approximately 15,000-square-foot, Class 100 clean room provides direct access to specialized fabrication and metrology equipment to facilitate advanced process development for microLED assembly, bonding, integration and pilot production. Equipped with optical and electro-mechanical labs, this facility also enables prototyping for complete optical systems. MiAC is strategically located within proximity to global major semiconductor manufacturers and leading universities with access to world-class optics and process engineering talent.
MiAC provides the infrastructure to showcase CP's proprietary, small pixel, epi-substrate agnostic microLED integration. The process scheme is to monolithically integrate GaN-based microLED array epi wafers with advanced CMOS backplane array wafers incorporating CP's recently unveiled Intellipix™ drive technology platform. By leveraging CP's deep experience in making 3 µm pixel high performance microdisplays and its strategic partners' new generation of manufacturing solutions ranging from CMP, hybrid wafer bonding, metrology and packaging, the collaboration at MiAC will accelerate the integration of emerging fine pixel pitch microLED arrays into compact microdisplay modules. This multi-disciplinary approach streamlines innovation and development cycle time to rapidly yield operable microdisplay modules with the required performance for AR/MR near-eye applications.   
CP's new Chandler-based MiAC is ready now and more strategic partners will join the high-tech workspace. The first samples of CP's 0.26" diagonal 1080p resolution backplane configured as a spatial color RGB microLED display integrated with display driver IC to accept industry standard MIPI input are expected to be introduced at MiAC by summer 2021. 
A grand opening ceremony will be held on Jan. 14, 2021 CP's executives, strategic partners as well as local business leaders will provide the keynote addresses in the opening ceremony.  

About Compound Photonics:
Compound Photonics (CP), also known as CP Display, is a leading provider of compact high resolution microdisplay technologies.  CP's microdisplay solutions are optimized to serve the augmented reality and mixed reality markets where high performance, small form factor, and low power consumption are most critical.  Compound Photonics' microdisplays enable engineers to innovate and create game-changing consumer and industrial products that can greatly enhance people's productivity and lifestyle. For more information, visit Compound Photonics.
About City of Chandler, Ariz.:
Chandler, Ariz. has built a reputation as a Community of Innovation. Life in Chandler goes beyond a thriving and dynamic business community with progressive entrepreneurship. Known for its rich diversity, the City offers an outstanding quality of life for all generations with great schools and recreational opportunities. Chandler has grown to become the state's fourth largest City with a population of more than 266,000. Chandler has been named one of the nation's Best Places to Find a Job and Best Cities for Women in Tech. The City also is one of the safest communities in the nation and boasts AAA bond ratings from all three national rating agencies, one of only 40 communities to achieve this distinction. For more information, visit the City website, or connect with the City on social media.
 
Media contacts:
Sherry Li
Compound Photonics, Director of Marketing
Stephanie Romero
City of Chandler, Public Information Officer
480-782-2231