April 20, 2023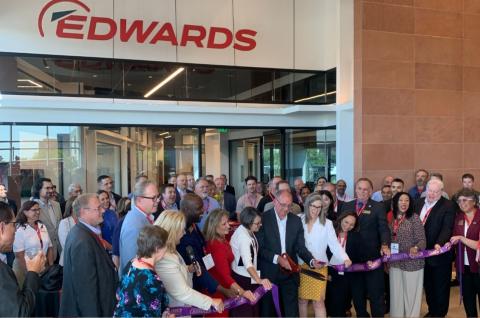 CHANDLER, Ariz. — Edwards, the leading supplier of vacuum and abatement services for the global semiconductor industry, is ready to serve Arizona's fastest growing sector with the grand opening of its state-of-the-art manufacturing facility in Chandler, Arizona. The newly constructed 200,000 square foot facility, coined Chandler Connection, officially opened its doors on Thursday, April 20.
Edwards Chandler Connection features manufacturing facilities, factory areas, meeting rooms and a dedicated training center. The new facility brings approximately 500 new jobs to the area and room to grow with demand. 
As part of the global Atlas Copco Group, Edwards is committed to working in collaboration with customers, partners and the local community, and was delighted to welcome students, educators, business organizations and local community leaders to the official opening of its Chandler facility. Guests toured the facility and heard about the partnerships Edwards is creating to help build a thriving semiconductor community in Arizona.
"I congratulate Edwards for its success and am confident that their innovative work will advance Arizona's position as a leader in the semiconductor industry worldwide," said Arizona Governor Katie Hobbs. "Edwards is a critical component of our state's booming technology ecosystem and I look forward to witnessing the growth of this facility and the positive impact it will have on the Arizona economy."
"We are delighted to open our service and manufacturing facility here in Chandler to support the new semiconductor fab investments being made by our customers," said Geert Follens, President of Atlas Copco Vacuum Technique. "Built to the highest environmental standards, this new facility will contribute to the safe, productive and sustainable manufacturing of semiconductors in North America, as well as provide exciting career opportunities for the local community."
"The City of Chandler is thrilled to see this impressive manufacturing facility begin operations in our burgeoning Airpark Area employment corridor," said Chandler Mayor Kevin Hartke. "Chandler has been a national leader within the semiconductor industry for decades and we are excited to welcome another significant investment from a prominent company like Edwards."
About Edwards
Edwards is a leading developer and manufacturer of sophisticated vacuum products, exhaust management systems and related value-added services. These are integral to manufacturing processes for semiconductors, flat panel displays, LEDs and solar cells; are used within an increasingly diverse range of industrial processes including power, glass and other coating applications, steel and other metallurgy, pharmaceutical and chemical; and for both scientific instruments and a wide range of R&D applications. Edwards has over 7,000 employees worldwide engaged in the design, manufacture and support of high technology vacuum and exhaust management equipment and has state-of-the-art manufacturing facilities in Europe, Asia and North America. Edwards is part of the Atlas Copco Group, based in Stockholm, Sweden. In 2022, Atlas Copco Group had revenues of BSEK 141 and at year end about 49 000 employees. Further information about can be found at Edwards Vacuum.
About the City of Chandler:
Chandler, Arizona has built a reputation as a Community of Innovation. Life in Chandler goes beyond a thriving and dynamic business community with progressive entrepreneurship. Known for its rich diversity, the City offers an outstanding quality of life for all generations with great schools and recreational opportunities. Chandler has grown to become the state's fourth largest City with a population of more than 285,000. Chandler has been named one of the nation's Best Places to Find a Job and Best Cities for Women in Tech. The City also is one of the safest communities in the nation and boasts AAA bond ratings from all three national rating agencies, one of only 40 communities to achieve this distinction. For more information, visit the City website, or connect with Chandler on social media.
 
Media contacts:
Meccah Muhammad
J2 Media
515-708-8076
Stephanie Romero
City of Chandler
480-782-2231