Aug. 17, 2023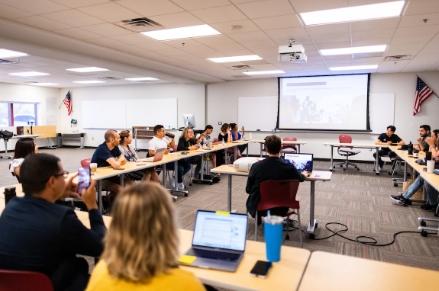 CHANDLER, Ariz. – The City of Chandler and Arizona State University will celebrate the opening of a new community coworking space, E+I @ ACIC, next week with a ribbon-cutting ceremony and public preview. Organized with the assistance of the Chandler Chamber of Commerce, the event will be held at the ASU Chandler Innovation Center, 249 E. Chicago St., Wednesday, Aug. 23, starting at 9:15 a.m.
Chandler entrepreneurs and innovators are invited to tour the coworking space and learn more about its benefits, which include:
Free workspace in the heart of downtown Chandler

Eight dedicated offices along with open seating areas

Managed by staff from ASU's J. Orin Edson Entrepreneurship + Innovation Institute

Ability to request 24-hour access

Co-located with the new Chandler Endeavor Venture Innovation Incubator
ASU's Edson E+I team will also share details about Chandler Endeavor Venture Innovation Incubator, launching this fall. Sponsored by the city and managed by ASU, the Chandler Endeavor program will offer free business incubation services and topic-driven workshops for local entrepreneurs. A call for founders will be issued in the coming weeks.
"We are excited to join ASU in celebrating the opening of this new coworking space here in Downtown Chandler," said Chandler Mayor Kevin Hartke. "Our goal in partnership with ASU is to make the ASU Chandler Innovation Center a one-stop shop for entrepreneurs looking to launch or scale a business. The pieces are now falling into place with the coworking space, prototyping space, and upcoming launch of the Chandler Endeavor Venture Innovation Incubator. We encourage local innovators to explore what this great community resource has to offer."
For more information about the event and to register, visit E+I@ACIC Coworking Ribbon Cutting.

Media contacts:
Stephanie Romero
City of Chandler
480-782-2231  
Sandy Leander
ASU Knowledge Enterprise
480-727-3396