June 4, 2019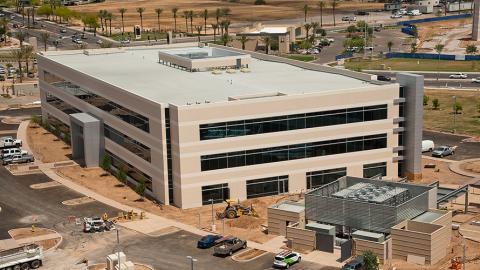 Fresenius Medical Care North America (FMCNA), the country's leading provider of kidney care products and services, announces its plan to relocate a business support center to Park Place in Chandler, Ariz. by this fall. The opening of the new 40,000 square-foot office currently under construction at 1650 S. Price Road will host approximately 200 positions and allow for future expansion and the creation of new jobs.
This FMCNA business center will provide administrative services to more than 2,400 dialysis centers around the country. The company currently operates more than 60 centers in Arizona under its Fresenius Kidney Care division, providing high quality home and in-center treatment options to people living with kidney failure. A regional headquarters supporting clinical operations is already located in Chandler.
More than 14,500 people are living with kidney failure in Arizona as of 2016, according to the U.S Renal Data Systems.
"We are excited for the opportunity to expand our presence in Chandler," said Bill Valle, CEO of Fresenius Medical Care North America. "We have made a strong commitment in Arizona to support individuals living with kidney failure with the highest quality care. This business center will further our mission to improve the lives of all our patients and help us offer the best options for treatment available including access to home dialysis."
The FMCNA office will be an important tenant for the 170-acre mixed-use business park called Park Place at the intersection of Loop 101 and Loop 202.
"Fresenius Medical Care joins an impressive roster of employers expanding in Price Corridor. This area offers a central location and access to a talented workforce," said Chandler Mayor Kevin Hartke. "We wish Fresenius Medical Care many years of success at their new office and also thank the Douglas Allred Company for their continued investment in our community."
About one in seven adults in the U.S. have chronic kidney disease, with many not detecting the condition until they have lost more than 96 percent of their kidney function. End stage renal disease (ESRD), or renal failure, is the end stage of kidney function and may require either a transplant or dialysis to remove waste from the blood, maintain safe levels of potassium and sodium and control blood pressure. With an increasing number of people with chronic kidney disease and kidney failure, FMCNA is committed to expanding access to life-sustaining treatment and accelerating the adoption of dialysis home therapies.

About Fresenius Medical Care North America
Fresenius Medical Care North America (FMCNA) is the premier healthcare company focused on providing the highest quality care to people with renal and other chronic conditions. Through its industry-leading network of dialysis facilities, outpatient cardiac and vascular labs and urgent care centers, Fresenius Medical Care North America provides coordinated healthcare services at pivotal care points for hundreds of thousands of chronically ill customers throughout the continent. As the world's largest fully integrated renal company, it offers specialty pharmacy and laboratory services, and manufactures and distributes the most comprehensive line of dialysis equipment, disposable products and renal pharmaceuticals. For more information, visit the FMCNA website.

Media contacts:
Brad Puffer
Director of Public Relations
Fresenius Medical Care North America
781-699-3331
Stephanie Romero
City of Chandler
480-782-2231