Feb. 17, 2022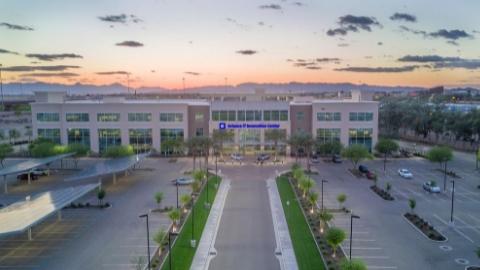 CHANDLER, Ariz. — General Motors is hiring several hundred employees for software-based positions at its Arizona Information Technology Innovation Center in 2022. Over 1,000 GM employees are based out of the 170,000 square-foot facility, located at 2900 W. Geronimo Place in Chandler's Price Corridor.
The Arizona IT Innovation Center is one of four national GM technology hubs, with sister locations in Warren, Michigan; Austin, Texas; and Roswell, Georgia. These IT Innovation Centers tackle solutions and services redefining GM's products as the company moves toward an all-electric future. Roles based in Chandler include software developers, software developers in-test, data analysts, business analysts, product managers, project/scrum managers and software architects.
"We are excited to see GM continue to grow its Chandler IT Innovation Center as part of its technology transformation," said Chandler Mayor Kevin Hartke. "These jobs created by GM are high-wage, high-skill and provide tremendous employment opportunities for our residents. We appreciate GM's significant investment in Chandler and look forward to being a partner in their continued growth."
GM selected Chandler in part for its strong local workforce when it opened the site in 2014, and the company has found success recruiting from area universities, as many of the available positions are entry level.
"As GM transforms from automaker to platform innovator, our IT Innovation Center in Chandler plays an integral role for the future," said Umesh Murthy, director at the Arizona IT Innovation Center. "On top of the region's deep existing pool of talent, Chandler offers a wonderful quality of life and strong community to newcomers. Those who join GM here will have an opportunity to pursue their passions and contribute to GM's purpose."
GM aspires to be the most inclusive company in the world, and in 2021, nearly one-third of all GM's new hires in the U.S. were women, while 42% were from underrepresented groups. In addition, where the work permits, GM's Work Appropriately philosophy offers employees the flexibility to work where they can have the greatest impact on achieving their goals.
To browse positions available in Chandler, visit GM Careers.
 
About General Motors
General Motors (NYSE:GM) is a global company focused on advancing an all-electric future that is inclusive and accessible to all. At the heart of this strategy is the Ultium battery platform, which will power everything from mass-market to high-performance vehicles. General Motors, its subsidiaries and its joint venture entities sell vehicles under the Chevrolet, Buick, GMC, Cadillac, Baojun and Wuling brands. More information on the company and its subsidiaries, including OnStar, a global leader in vehicle safety and security services, can be found at General Motors.
About the City of Chandler
Chandler, Arizona, has built a reputation as a Community of Innovation. Life in Chandler goes beyond a thriving and dynamic business community with progressive entrepreneurship. Known for its rich diversity, the City offers an outstanding quality of life for all generations with great schools and recreational opportunities. Chandler has grown to become the state's fourth largest City with a population of more than 281,000. Chandler has been named one of the nation's Best Places to Find a Job and Best Cities for Women in Tech. The City also is one of the safest communities in the nation and boasts AAA bond ratings from all three national rating agencies, one of only 40 communities to achieve this distinction. For more information, visit the City website, or connect with the City on social media.

Media contacts:               
Stephanie Romero         
City of Chandler, Public Information Officer
480-782-2231
Maria Raynal
General Motors Communications
313-720-4109